Mandya couple finally weds amidst heavy police protection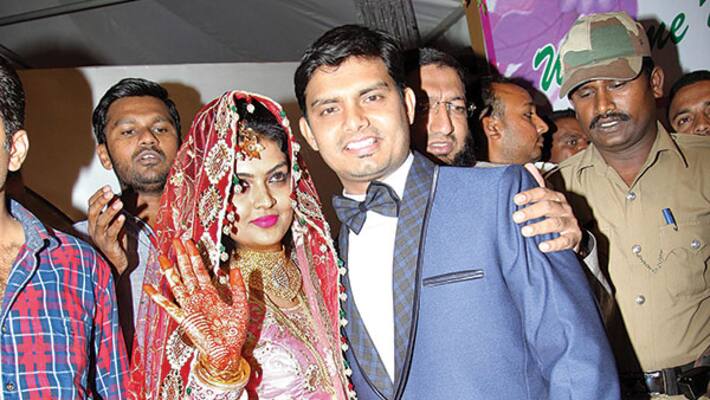 A young couple could finally tie the knot on Sunday evening in the presence of over hundred policemen who were stationed at the wedding hall in Mysore for safety reasons.
After being severely criticised by several right-wing groups in Mandya, Ashita and Shakeel's wedding reception was held peacefully at Taj Convention Hall in Mysore.
Tight security arrangements were made by the police on the day of the wedding. Barricades were placed on all the roads that lead to the marriage hall.
The bride's parents were accused of committing 'love jihad' and were also lectured by a BJP politician for permitting their Hindu daughter to marry to a Muslim boy. The two MBA graduates were in love for 12 years and decided to get hitched but their decision was strongly opposed by right-wing groups.
Being the grand-daughter of former MLA Veera Gowda from Malavalli constituency, Ashita's marriage to Shakeel attracted many eyeballs.
To ensure that their marriage was held successfully, Ashita and Shakeel had to request for police protection at their wedding venue to avoid any misfortunes. To support the young couple on their wedding day, several progressive thinkers and activists including K. Neela, K.S. Vimala, Gauri Lankesh, K.S. Bhagwan, V.N. Lakshminarayan, Jagannath and others made their presence felt at the function.
According to these activists, "A day before the wedding we celebrated Ambedkar Jayanti and if we really respect him then we must also respects the couple's decision to marry. We are here today to support the couple. Anyone who opposes this marriage will be opposing our Constitution."
Popular writer Devanura Mahadeva said, "Former Vishwa Hindu Parishad leader Ashok Singhal always approved this kind of inter-religion marriages. His own daughter is married to a Muslim. This kind of marriages will bring integration and will also nurture secular stance in our country."
Several Congress leaders from Mandya were also present at the wedding reception. More than 800 family members and friends were a part of the function held on Sunday. The wedding ceremony was organized according to Muslim traditions.
Last Updated Mar 31, 2018, 6:38 PM IST