Don't mess with us! Malayalee cyber geeks hack 'n' troll Pak website
The Indian cyber group hacked the server of Sialkot International Airport.
The attack was carried out by a cyber group named 'Mallu Cyber Soldiers'.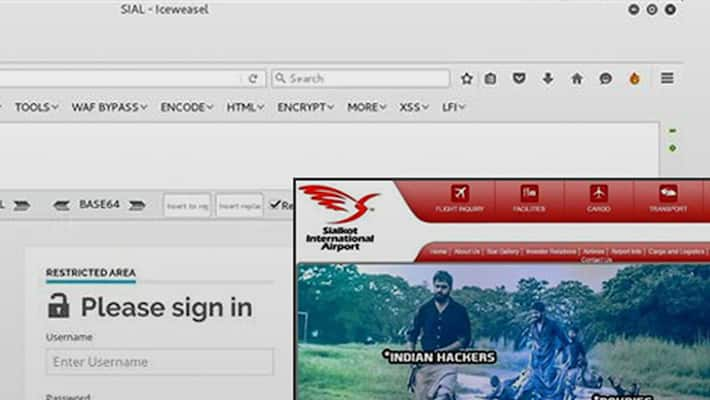 In a befitting reply to Pakistan hackers, an Indian cyber group has hacked the official website of Sialkot International Airport. 

The virtual group who address themselves as 'Mallu Cyber Soldiers' has generously used images of Mollywood celebrities Nivin Pauly, Salim Kumar and Mohanlal on sial.com.pk. 
"Mere Desh Wasiyon, we are inviting trollers to show our enemy what we Indians are capable of, this is just a small payback for downing our website. We're giving the login and admin details below, show your strength and please do not change the password so that everyone gets a chance to troll hard," says a post shared by Mallu Cyber Soldiers on their Facebook page.
The group also doctored with the data on the website, according to which Pakistan flights could even land in little-known towns like Vaduthala and Perumbavoor. The 'Mallu Cyber Soldiers' struck after the Pakistani hackers defaced the website of Thiruvananthapuram Airport website on Wednesday.
It is not the first time the group has made a surgical strike on Pakistani websites. Last year, after the Pak-based hackers attacked the official website of Kerala Government the 'cyber warriors'  launched a counter attack and hacked nearly 250 websites. 

The counter operation was named  '#OpPak', in which they broke into several government websites including  Pak President's official website  pakistan.gov.in; Sate Development Organisation; culture.gov.pk and e-government.gov.pk. 
In spite of constant digital vigil India's cyber security infrastructure remains weak. India ranks among the top 10 countries, with a large number of cyber crimes, ranging from online harassment to fraud, and even spying.
Last Updated Mar 31, 2018, 6:48 PM IST