Librarian burns down library after getting fired
Several valuable books were destroyed in the fire.
The Gulbarga University library has several ancient manuscripts.
The police have arrested the accused.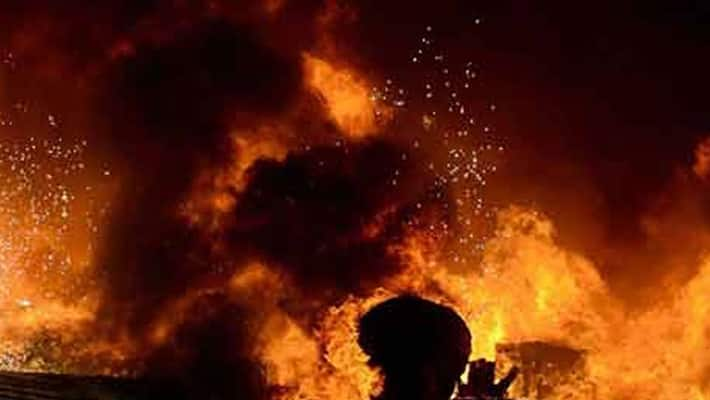 Former employee of Gulbarga University Library has set fire to the university library and has burnt lakhs of books and international journals.
Police have arrested Shivakumar Pattedar, resident of Kusanuru, Gulbarga district and kept him under judicial custody. The university estimates around ₹ 1 crore rupees books and furniture were destroyed in the incident.
Also Read: Library catches fire, books reduced to ashes 
Accused Shivakumar was a contract employee in the university and he was removed from the job since the contract period was over. Shivakumar has told to the police that he did this to take vengeance against the University for removing him from the job.
The university had terminated his services as Shivakumar was not regular in his work and he was taking leave without intimating his superiors. Hence the university decided not to continue the contract work.
Watch: Unidentified person sets fire to Gulbarga University library
How the incident happened?
Since Shivakumar was working in the library he was quite familiar with the library building structure. He climbed the compound wall on the midnight of Tuesday and reached the top floor of the university building. He broke the small fragile door of the terrace and entered inside the building.
First he set fire in the first floor afterwards he reached the second floor and set fire on that floor also and then escaped from the same small door of the terrace. The security persons have found the fire in the early morning and have called the fire engine. Entire second floor and a part of the first floor were burnt by the time the fire engine reached the spot at around 8 am on Wednesday.
Legacy of the library:
The university had scheduled Convocation function on December 9. The university library had ancient rare books and manuscripts. It had preserved 50 years old international reference journals and back journals. The University library had won 'Best Library National award' in 2007.
In the beginning it was thought fire is set due to short circuit. In the inspection when they found that there is no fault in the electricity connection the police inferred that a gang of miscreants have plotted this. But when they inspected the CCTV camera it was confirmed that Shivakumar alone has done this.
Now Shivakumar is under judicial custody and the University has called for an internal investigation.     
Last Updated Mar 31, 2018, 6:32 PM IST