Vani Vilas Hospital's maternity ward overflows, mothers sleep on floors
State-run Vani Vilas Hospital is overflowing with patients.
New mothers are forced to share beds, and even sleep on the floor.
New public hospitals are under construction, to reduce the load.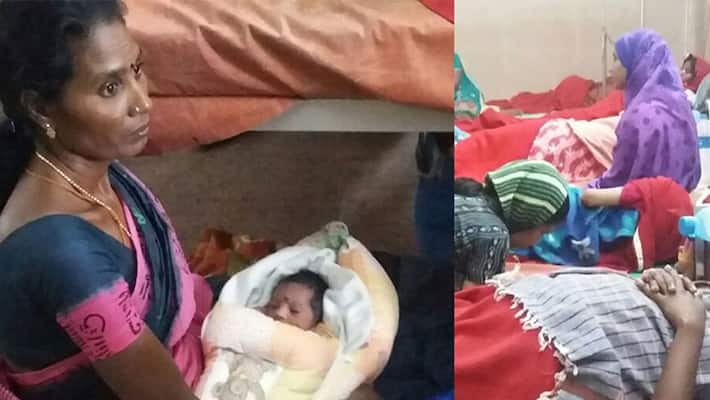 With limited spaces to sleep, new mothers who give birth in the hospital have been seen taking turns sleeping on single bed provided. And even then, they have to hand over their newborns to relatives seated on the floor beside the bed.

Oliselvi gave birth to her second baby, a boy, on Sunday. But she cannot keep her baby next to her as there is no place.

"The bed at neonatal ward has to bed shared as there are too many admissions. The baby is wrapped in a small bed is being taken care by me. Whenever the baby has to be fed, it is placed next to the mother, and once the feeding is done, I take it and place it in my lap," said Clara, Oliselvi's sister.

Asma, another patient who delivered a baby two days ago, also shared similar sentiments as she has to share her bed with another mother.

"The cot is small and it can accommodate a mother and a newborn. But due to a shortage of beds, new mothers are forced to share with another mother. This is causing a lot of discomforts," she said.

At times the new mothers have to sleep on the floor. Their relatives make arrangements for them, with things like floor mats. 

Dr Geetha S, Medical Superintendent, says, the hospital  is overcrowded as a large number of poor patients were admitted. 
The burden on the hospital will reduce once the new medical college hospital at Bowring and Lady Curzon is completed. This apart, the Ghosha Maternity Hospital in Queens Road is in its finishing stages. 
Once that hospital commences operation, the patient load will come down.
The Vani Vilas Hospital that has 536 beds, witnesses over 75-80 admissions every day.
Last Updated Mar 31, 2018, 6:45 PM IST