Kumbakonam tragedy: After 12 years families to get Rs 5 lakh compensation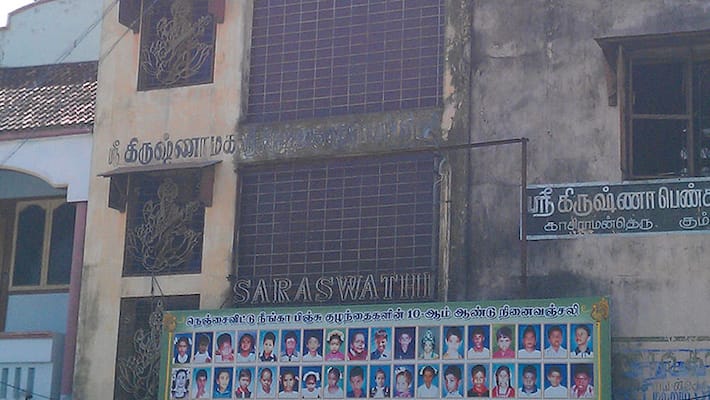 Almost 12 years after the fire that killed 94 children in the 2004 Kumbakonam tragedy, a Commission of Inquiry appointed by the Madras High Court has fixed Rs. 5 lakh as compensation payable to each of the parents / legal heirs of the victims.
The Justice K. Venkataraman Commission submitted in the report that the compensation had been arrived at based on the notional income (Rs. 30,000) prescribed by the Supreme Court in Kishan Gopal case.
"The annual contribution of the victims to their families if they were alive and working could be taken as Rs. 30,000. By applying the multiplier of 15, the amount of compensation could be fixed at Rs 4.5 lakh. A conventional amount of Rs. 50,000 has to be added and the total will be Rs. 5 lakh," said K. Venkataraman, retired judge, PTI reported.
Noting that the compensation payable will carry interest rate at 6% per annum from the date of filing claim before the Commission, the former judge said, "As regards victims Kowsalya, Mercy Angel Mery and B. Vijay who sustained serious injuries, this Commission is of the view that justice would prevail if each of them is paid Rs. 6 lakh as compensation."
The Commission said that in the case of Kowsalya, who sustained 65 per cent disability and is pursuing Class XII, the State government could contribute for her further education at least up to bachelor's degree, considering her poor economic back ground. As far as the other injured students are concerned, the Commission fixed Rs. 50,000 as just and fair compensation.
The entire amount shall be paid by the State which shall be later recovered from the school where the accident happened, education and municipal authorities, the noon meal organiser and cook who were working in the schools.
The decision by the court is being seen as a major blow to the families of the Kumbakonam fire tragedy, who have been waging a civil suit for an adequate compensation.
Tamilarasan, counsel for the claimants, told Times of India that the commission spent Rs 2-crore for the inquiry and then awarded a mere Rs 5 lakh to the families of the victims against their claim of Rs 20 lakh. 
The report noted that the families will be challenging the Inquiry Commission's decision.
The 2004 Kumbakonam school fire accident was the one of the four major fire accidents and largest school accident in Tamil Nadu, and second in terms of casualties for fire incidents in schools in India. A total of 94 students of the primary section of the Krishna English Medium School in Kumbakonam town in Thanjavur district in Tamil Nadu were burnt to death in their classroom after the thatched roof caught fire on 16 July 2004.
Last Updated Mar 31, 2018, 7:03 PM IST