Kochi begins Xmas preparations with cake mixing ceremony
Cake mixing ceremony is held before baking plum cakes for Christmas.
The ceremony was attended by celebrity guests, invitees and hotel staff.
The more the mixture is kept for fermentation, the better the cake tastes.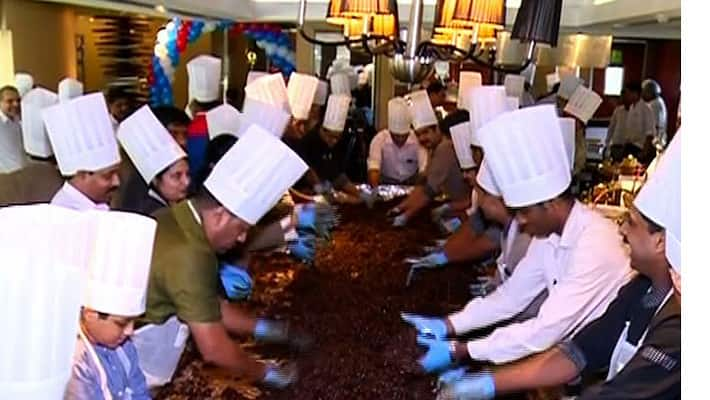 Christmas is hardly two months away, and Kochi is all geared up to welcome the festival. The elaborate and fun-filled cake mixing ceremony prior to Christmas was held at the Holiday In Hotel in Kochi on Thursday evening.
 
In the first phase, 450 kilos of dry fruits was mixed with 250 litres of home-made wine; the mixture is then marinated with sugar,  spices and finally a generous amount of liquor is poured before being stored in a container until the festive season. It is a complex blend of raisins, cherries, orange and lemon peels, dates, dried apricots, figs, walnuts, cashew, almond flakes and spices like ground cardamom, cinnamon and cloves.The more it is kept for fermentation the cake tastes better. 

"We began the process a month before. It's a tedious procedure, from selecting quality dry fruits, deseeding the grapes , removing the stems... It is then pre-cooked in home made wine and then soaked in alcohol, " said Pastry Chef Johnson who led the ceremony.
The exciting event was attended by invited guests, celebrities, media and hotel staff.  "I am lucky to be here, and now they have given me a piece of cake and they have told that this is how it would taste exactly after two months when it is baked in plum cake," said actor Joju George, who inaugurated the ceremony. 

The mixture will be taken out after a month and blended with more dry fruits before taking it to the oven.
Last Updated Mar 31, 2018, 6:56 PM IST