Will rule 'Holy land' Kerala in five years, says BJP
BJP leadership says that Kerala is ready for BJP
Next government in Kerala will be led by the BJP, say Shah, Naidu.
Shah has given a target of winning 12 LS seats in the next LS Polls.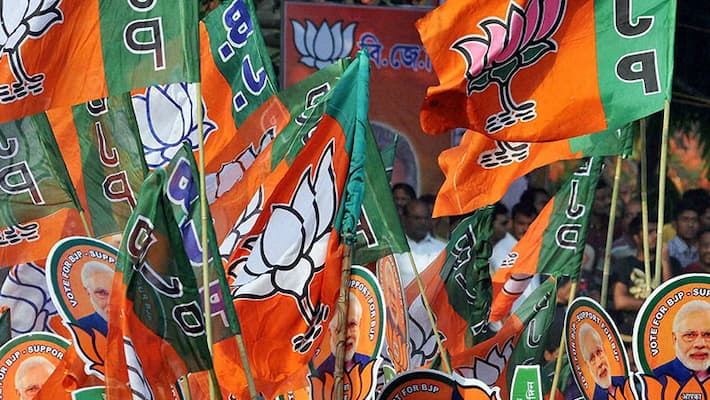 Buoyed by the tremendous public support and the brimming enthusiasm of party workers who thronged the massive rally addressed by Prime Minister Narendra Modi in connection with the National Council meeting of the BJP in Kozhikode on Saturday evening, the party leadership has vowed to capture power in Kerala in five years.  The saffron party, which broke the Kerala jinx by winning its first seat in the state Assembly in the elections held in May this year, is dreaming big. 
In his public address on Saturday, PM Modi showered praise on Kerala and its people stating that the state is a 'holy land' as far as the BJP is concerned. "Fifty years back, the journey of the BJP started in this land," he said referring to the Jan Sangh National Council meeting held at Kozhikode in December 1967. The journey kick-started by Deen Dayal Upadhyaya, fifty years back, has propelled the party to power in the national capital, he said.  "The BJP has become the biggest party in the country. All started here, in this holy land," the PM added. 
BJP President Amit Shah exuded confidence that the party would rule the state in the next polls. The success of the National Council was an indication that the party was going to make a big impact in the state, he said. 
During the last Assembly Elections, former Defence Minister A K Antony said that the BJP would not open an account in Kerala. " But now, I invite him to witness O Rajagopal (the first BJP legislator in Kerala Assembly) sitting there in the house, said Union Minister Venkaiah Naidu. "The people of Kerala will give the BJP a mandate to rule next time," Naidu said. 
Meanwhile, there are reports that BJP president Shah has given a target of winning 12 Lok Sabha seats from the state in the next LS polls. The party has chalked out a 31-point long term policy for the party in the state.
"It is not an impossible goal," says Mollywood superstar and Rajya Sabha MP Suresh Gopi. "You are underestimating people of Kerala. They are ready for change," he added. 
Last Updated Mar 31, 2018, 6:43 PM IST