CM, opposition pass the buck ahead of Kerala polls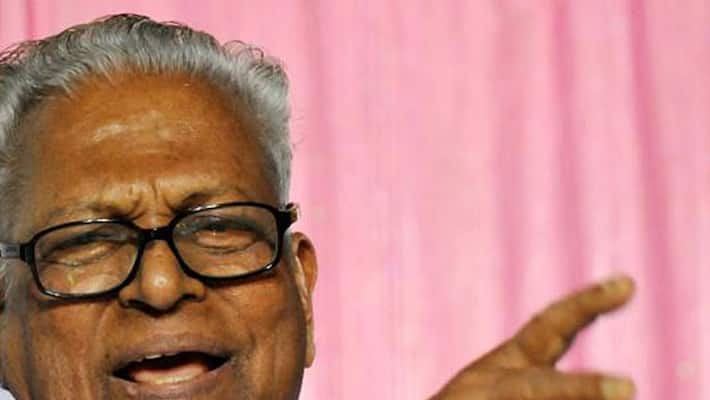 Raising a high-pitch campaign to drum up support for their candidates for the May 16 Assembly polls, Chandy threatened to go ahead with legal action against Achuthanandan if he did not withdraw his statements on the matter. The veteran CPI(M) leader shot back, saying, it was Home Minister Ramesh Chennithala who had written to Congress high command, complaining about "corruption and nepotism" in the Congress-led UDF government headed by Chandy.
Both leaders launched broadsides at each other during their election campaign in Ernakulam district.
Achuthanandan is saying that there are 31 cases pending against me. He said there are 136 cases against me and my ministers in various courts. He should explain about it. He should make it public, the FIR of at least one case, Chandy said here, urging the Marxist leader to withdraw his "false statement" or face legal action.
The chief minister admitted that one FIR was launched against K M Mani who was forced to quit his ministry recently after the court made a scathing observation against him in a case related to the bar bribery scandal.
Now the court is considering a plea seeking quashing of that FIR, Chandy said.
Chandy also alleged that Achuthanandan's party has fielded many tainted leaders, including a murder accused as candidates for the Assembly polls.
Continuing his attack against Chandy, 93-year-old Achuthanandan, while addressing an election rally at Koothattukulam, produced a copy of a purported letter written to Congress High Command allegedly by Chennithala, complaining of corruption and nepotism in Kerala under Chandy's watch.
It was Chennithala who had written to the High Command, saying that corruption is rampant in the state government and because of this, the image of the chief minister has been totally spoiled, he said, a day after he said, he was ready to face legal action for his statements on corruption cases against Chandy.
Achuthanandan produced a copy of the alleged letter while campaigning for LDF's candidate for Piravom Assembly constituency M J Jacob.
Last Updated Mar 31, 2018, 6:46 PM IST