The verdict cannot touch a hair of my head: Kerala minister
The murder came to light after a controversial speech of Mani in 2012
In the speech he claimed his party often eliminated political rivals in Idukki district
The minister said he will not resign and will approach higher courts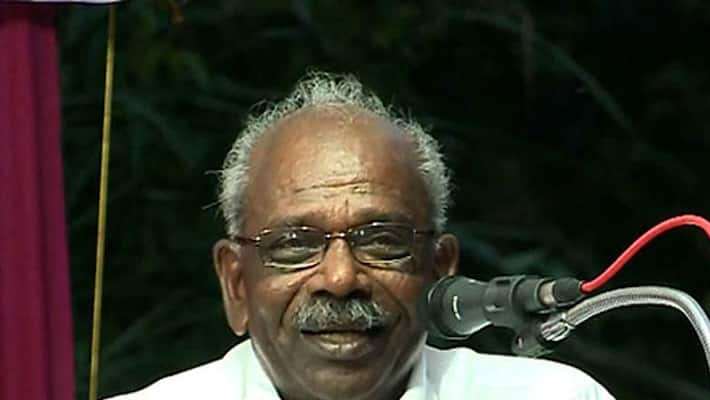 In a major setback for CPM-led LDF government, M M Mani, the state electricity Minister, will have to face trial in sensational Anchery Baby murder case. Additional District and Sessions Court, Thodupuzha, on Saturday, dismissed a discharge petition filed by the minister and two others. 
 
The court also allowed prosecution petition to impaled CPM Idukki district secretary K K Jayachandran and CITU leader K K Damodaran and two others in the list of accused. Mani, a state secretariat member of the CPM, is the second accused in the case and will have to face trial. 
 
However, the minister said he wouldn't resign as it a case fabricated by previous UDF government led by Oommen Chandy. "The verdict cannot touch a hair of my head. We will approach higher courts and fight the case politically," he said.
 
The prosecution had stated that Mani, who is also a state secretariat member of CPM, conspired with K K Jayachandran, the first accused to carry out the murder of Youth Congress leader Anchery Baby. The murder took place on November 13, 1982, but came to limelight only after Mani's controversial speech at Udumbanchola in 2012. 
 
During the speech, he claimed that his party often eliminated political rivals in the district. "We issued a list of 13 people. One, two, three, four... We killed first three persons. The first one was shot to death. Second was beaten to death. Third stabbed to death," he had said. 
 
Meanwhile, Opposition leader Ramesh Chennithala demanded Minister's resignation in view of the court order. 
Last Updated Mar 31, 2018, 6:42 PM IST