Kerala erupts in protests, slay dogs after killing
A 90-year-old was mauled to death by dogs in Varkala.
Protestors attacked Menaka Gandhi, who came out in support of dogs.
Several street dogs were killed by angry mobs.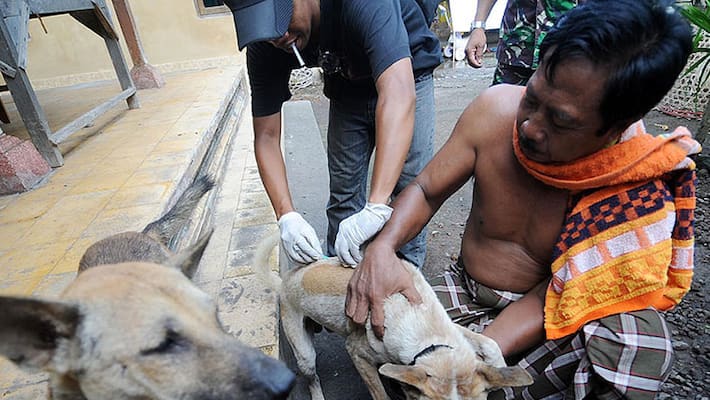 A day after a 90-year-old man was mauled to death by a pack of street dogs at Varkala, enraged locals allegedly killed a number of canines in the area today.
    
Police said they have registered a case in connection with the killing of the dogs.
    
Though they did not specify the number of dogs killed, Kochi-based Street Dog free campaign head Jose Maveli claimed that around 100 dogs were killed by the locals.
    
He alleged that the police faced resistance from local people when they tried to arrest those involved in the killing of the dogs.
    
Meanwhile, the body of Raghavan, who died after being mauled by a pack of stray dogs yesterday, was cremated in Varkala, becoming the second fatal victim of dog attack in the region in recent times after a 65-year old woman was killed by dogs in August at Kanjiramkulam here.
    
Meanwhile, Opposition leader Ramesh Chennithala criticised Union Minister Maneka Gandhi for her reported remark that cases should be registered under Kerala Anti-Social Activities (Prevention) Act against persons who kill street dogs.
    
"Maneka Gandhi is a hypocrite. She has even insulted Kerala Chief Minister Pinarayi Vijayan on the issue.  Who gave this power to Maneka Gandhi, who is she?" Chennithala asked in the state assembly.
    
The assembly would take up a notice for an adjournment motion on the street dog menace tomorrow. 

Meanwhile, BJP National Executive member from the state V Muraleedharan flayed Maneka's statement and requested her to show restraint in her response on a matter which was of grave concern to the people at large in Kerala.
   
"It may also be noted that the opponents will misinterpret such statements to tarnish the image of the central Government and the BJP among the public', Muraleedharan, a former BJP state President, said in a letter to Gandhi.
    
Stating that she has every right to express her opinion on matters which she considered as important, he said "But going to the extent of requesting the DGP of a state to impose stringent laws like KAAPA on people who are forced to cull stray dogs which have been attacking and killing them will set a wrong precedence".
   
"I would like to kindly remind you that this issue is not at all connected to your portfolio which is women and child development," he said.
   
"It may be kindly recalled that the then Minister of Environment and forest Prakash Javadekar had given the consent of the Government to cull Nilgai which was destroying the crops in the state of Bihar, despite you airing your dissent in public', he said.
    
"The party and the Union Government had to struggle hard to convince the general public that your dissent was your personal opinion and not that of the Government," he added.
Last Updated Mar 31, 2018, 6:39 PM IST