Suresh Gopi's fiery attack on 'Corrupt Oommen Chandy'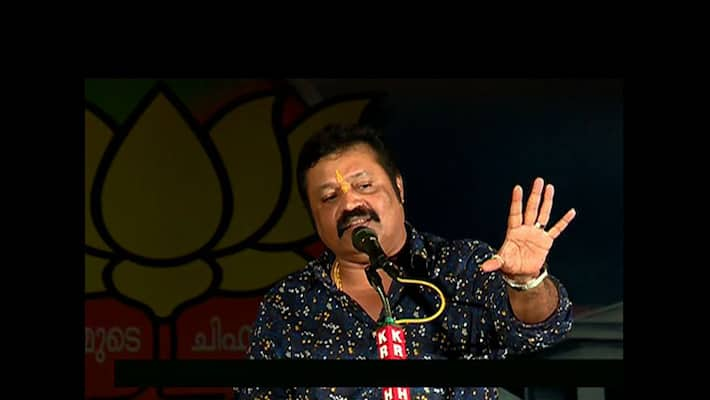 If you thought Malayalam action hero Suresh Gopi must have a bit mellowed after getting nominated to the Upper House, you got him wrong. 
The actor, who is known for his gun-weilding good-cop roles, is back with vengeance. Not on the silver screen. But on the political stage and spitting fire against corruption and the ruling Oommen Chandy government in Kerala!
Though he is a longtime companion of the BJP, Suresh Gopi seldom attack other political parties or leaders. But parliamentarian Suresh Gopi seems to have shed all such reservations. At a campaign meeting of the BJP at Thiruvananthapuram on Friday, the Malayalam superstar came down heavily against the 'corrupt Oommen Chandy government.' 
Union Home Minister Rajnath Singh was addressing the meeting when Suresh Gopi reached the venue. The crowd gave him a heroe's welcome. Throughout his speech, he targetted Chief Minister Chandy. He challenged Chandy to leave the Solar scam probe to the CBI. 
Suresh Gopi did not spare the Judicial Commission that probes into the solar scam. "Even after questioning him for 14 hours, the commission could not expose the thief," the newly nominated Rajya Sabha MP said in an apparent reference to the long deposition of Oommen Chandy before the commission.
If the BJP had five members in the Kerala Assembly, they would have ensured that Oommen Chandy and his gang are no longer in power, Suresh Gopi claimed. 
Last Updated Mar 31, 2018, 6:43 PM IST