Kerala CPM starts secret operation to find out Sanghis in Uniform
Pro-CPM Police Association begins a secret survey to collect details of Sangh Parivar supporters in the force.
The CPM area committees are also making a parallel inquiry on Sanghis in the police force.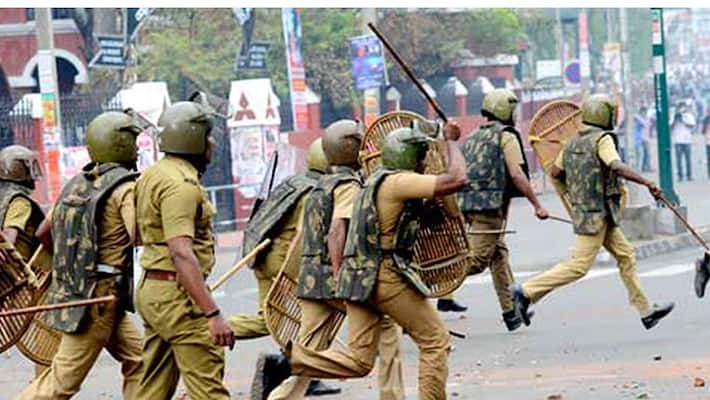 After coming under fire for allegedly following Modi government's policies in policing, the Left government in Kerala is reportedly collecting information of the pro-Sangh Parivar officers in the Kerala Police. 
Reports quoting sources in the Home Department say that the pro-CPM Police Association is entrusted with the job of finding out the Sanghis in the police. The association was given one week to furnish the details. Besides the Police Association, area committees of CPM will also make a list of pro-BJP police officers in their area.
The CPM had found itself in an unenviable position as recent police excesses put the Left Government and Chief Minister Pinarayi Vijayan in a tight spot. Even the CPI, the second largest partner in the Left Democratic Front (LDF) had warned against the police brutalities and cautioned against following Modi government's policies. 
As the state saw a spike in police atrocities, the CPM state leadership was forced to come out openly against the police. The Home Department also drew flak for slapping Unlawful Activities Prevention Act (UAPA) indiscriminately against writers and political activists.
 
When the functioning of the police brought shame on the government sources in the Left parties had chosen to pass the blame on 'Sanghi elements' in Kerala Police. Some police officials were acting without the knowledge of Chief Minister who also holds the Home portfolio. The CM and top officials were kept in the dark in most of the controversial cases, they claimed.
The move to collect information of Sangh Parivar supporters in uniform, the CPM hopes, would allow the government to keep a check on their activities and to avoid further embarrassment. It also shows that the CPM had realised the growing threat of  Sangh Parivar influence in the police. 
Last Updated Mar 31, 2018, 6:37 PM IST