Centre backs RSS violence in Kerala, says CM Vijayan
The CPM and the BJP are trading charges over the recent murders in Kannur.
RSS unleashes violence but covers it up through propaganda: Vijayan
Kerala CM gave silent nod to murderers: BJP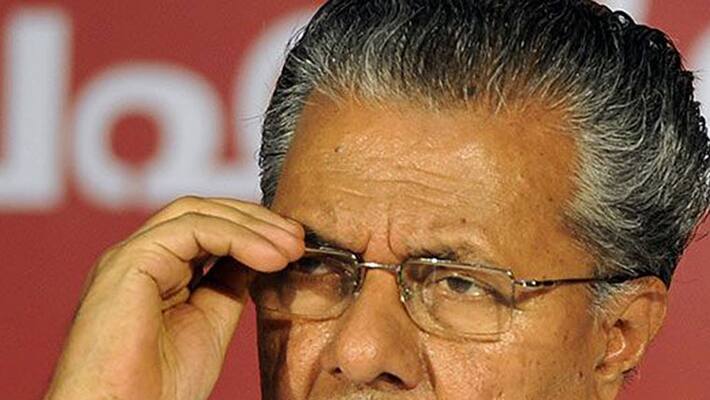 Kerala CM has blamed Centre for backing violence perpetrated by the RSS in Kerala. The blood thirst of the RSS has no respite, and they do not want peace to prevail in the state, he said in the wake of the fresh bout of violence in Kannur. 
RSS is unleashing violence and trying to cover it up through false propaganda, Vijayan said at a public function organised by the Communist Party of India-Marxist (CPM). The RSS is trying to scuttle peace so that it could successfully promote communalism and division in the society. The NDA government at the centre also backs the RSS violence, he criticised. 
The Chief Minister's statement gains significance in the context of the bloodshed in Kannur, his home district, where one CPM activist and a BJP worker were killed in a matter of two days. 
Meanwhile, the BJP central leadership has taken a strong view of the developments in Kannur and demanded CBI probe into the murder of a party worker on Wednesday morning. Party spokesperson G V L Narasimha Rao alleged that Pinarayi Vijayan gave the silent nod to assailants. The lone BJP legislator in Kerala Assembly O Rajagopal also stated that the CM had a moral responsibility in Kannur violence. The Chief Minister who failed to protect the lives of people in his village should relinquish home portfolio, the party demanded.  The BJP state general secretary K Surendran demanded the deployment of central paramilitary force in Kannur to bring the situation under control. 
The Congress has blamed both the BJP and the CPM for creating "terror" in the state through brutal revenge killings. "The law and order situation in the state has crumbled in the state," lamented VM Sudheeran, the state chief of the Congress at a press meet in Thiruvananthapuram on Wednesday. Leader of Opposition Ramesh Chennithala also blamed the Home Department for its failure to ensure peace and security. 
Kannur, the politically sensitive district in Kerala, saw a spurt of violence recently that culminated in the killing of CPM worker on Monday which was closely followed by a BJP worker's murder on Wednesday. As many as seven party workers from both the CPM and BJP have lost their lives in four months in the district. 
Last Updated Mar 31, 2018, 6:53 PM IST