Karnataka's babus rattled by rat snake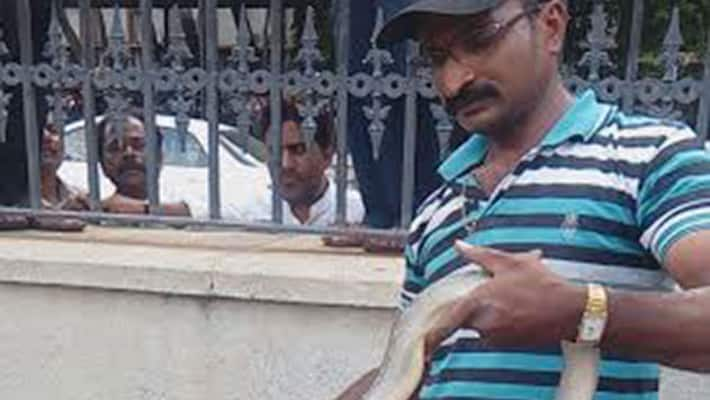 Fire and emergency department personnel in the Vikasa Soudha (a building housing a few ministries and governmental offices) noticed the snake around 2:30 pm near a broken cement ring and raised an alarm. The panic spread quickly and officials were spotted evacuating the area helter skelter, apparently fearing a snake bite. 
By 3:00 pm, Animal Response Trust member Mohan K arrived at the Soudha with his assistant and trapped the reptile, which turned out to be a non-poisonous rat snake. The sight of two men strolling out the area confidently, gunny sack firmly in hand, finally calmed the watching crowd.
"It was a rat snake and it may have come from the adjacent Cubbon Park. This snake is not poisonous, though people end up killing it out of fear. Snake like this has been spotted in the Vidhana Soudha and the Vikasa Soudha many times. A few months back as well, a five-foot long rat snake was rescued and released into a conducive environment," Mohan, who has been an animal rescuer for nearly two decades, said.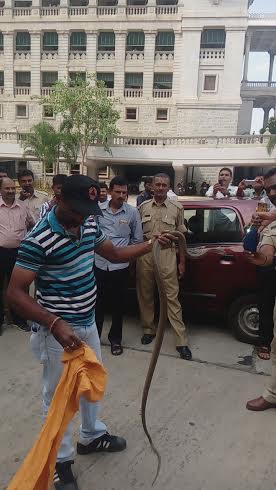 Raja M, a Second Division Assistant at the Vikasa Soudha opined that since the area about the offices had plenty of rats, the snake may have come there to prey on them. "We were scared to go near the snake and it was a big relief when the rescuer arrived to take the snake away," he said
"We are scared of such reptiles. The Vidhana Soudha and Vikasa Soudha are close to Cubbon Park and even the Governor's office has a huge garden, which becomes a cool, safe place for snakes to shelter. Whenever it rains or if the weather turns too hot, such reptiles enter the Vidhana Soudha." Manjula, a typist, informed Asianet Newsable. 
Last Updated Mar 31, 2018, 6:39 PM IST