Karnataka ministers flouted rules to buy 217 luxury cars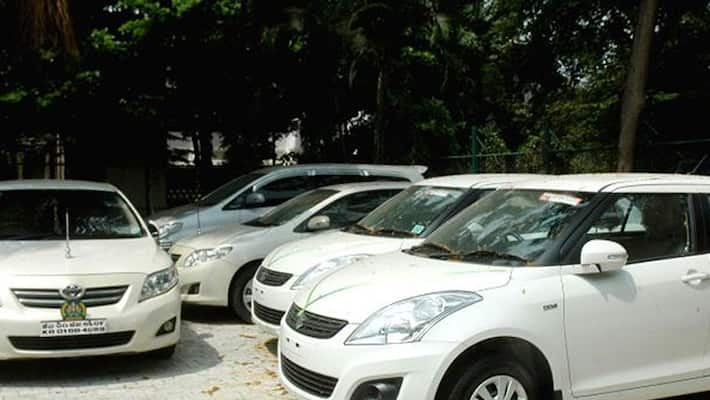 While Karnataka reels under a severe drought, guess what our ministers have been doing with government funds? The state's ministers have been busy shopping for brand new luxury cars.
A Suvarna News exclusive has information that in the last six years, Karnataka's Department of Personnel and Administrative Reforms (DPAR) has managed to justify the purchase of 217 luxury cars, out of which 123 cars were bought for the state's Kumara Krupa Guest House alone in the last three years. The government has spent over ₹30 crore to buy these 217 cars.
Allegedly, the state's ministers change their cars for new ones after they exceed as little as 1 lakh km in mileage. Mostly, it is about status. Karnataka's politicians are well-known for their love of fast cars and expensive gadgets.
A couple of months ago, Chief Minister Siddaramiaiah ran into troubled waters over his Hublot watch worth ₹70 lakh. On the heels of that, his rival and BJP state chief, BS Yeddyurappa's new Toyota Land Cruiser Prado worth ₹1.16 crore gifted to him by the former state industries minister Murugesh Nirani, came under the scanner. In 2012, during Jagadish Shettar's rule as CM, all MLAs were given new iPads.
Ministers in Karnataka are required to comply with a state government order that stipulates certain standard austerity measures. Among them is a diktat that the purchase of any new car for government purposes has to be passed through the finance ministry. There is, however, a loophole that allows for 'special cases' and discounts 'foreign-funded projects'. And that is what subsequent governments in Karnataka have been using to get their supply of luxury cars for their ministers.
Read more: BSY gets ₹1.16 crore worth Toyota Land Cruiser for state-wide tour
During Siddaramaiah's rule alone, 55 cars were bought during 2013-14; 57 during 2014-16; and 11 during 2015-16. Between 2010 and 2016, a total of 217 cars were bought, 94 during the first three years when the BJP was in power, and 127 in the next three years of Congress rule.
Out of 217 cars, 175 were of the Toyota Innova model. The other models include luxury brands such as: Mercedez Benz, Toyota Camry, Toyota Corolla, Honda CRV, Tata Safari, Skoda. Even less expensive cars such as: Maruti Suzuki Ertiga, Toyota Altis, Nissan Sunny, and Maruti Suzuki Swift Dzire feature among the ₹30 crore purchases.
Last Updated Mar 31, 2018, 7:02 PM IST