Karnataka BJP now wants NIA to probe RSS worker's murder
A group of BJP leaders have submitted a petition to Karnataka governor.
BJP leaders have demanded an NIA probe into RSS worker's death.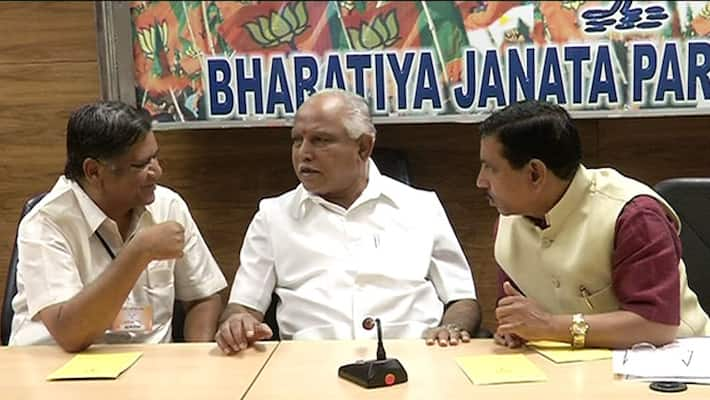 The BJP in Karnataka have demanded the Union government to order a probe by the National Investigation Agency into the murder of an RSS worker in Bengaluru.
A BJP delegation under the leadership of former Chief Minister and Karnataka BJP President, BS Yeddiyurappa and  BJP opposition leader Jagadish Shetter submitted a petition to the Governor calling for a probe by NIA.
On October 16,  Rudresh, Shivajinagar  Mandal President  was hacked to death after the Vijaya Dashmi procession. 
The leaders also expressed dissatisfaction in probe by Karnataka police as they fear the investigation will be sabotaged and culprits will be let free. 
"Kerala type goonda rule is witnessed in Karnataka, so far four RSS persons have been murdered in one year and the police failed in taking any probe to logical end hence we demand probe by NIA," Yeddiyurappa said.
This apart the BJP delegation also mentioned that they have sought governor's intervention in the ₹1,800 crore "steel bridge project" from Basaveshwara Circle to Hebbal.
"There is suspicion  about  transparency of the project. The actual cost was ₹1,300 crores when the proposal was made and now it is ₹1,800. BJP did not bring this proposal into the cabinet. This government is taking the project in hurry. We suspect, there could be a kickback to leaders to take this project ahead. Hence we demanded governor's intervention," said Shettar.
Joining Shettar, R Ashoka, former Deputy Chief Minister echoed similar sentiments and said, the steel bridge will also cause serious ecological damage and hence an alternative should be considered.
Last Updated Mar 31, 2018, 7:06 PM IST