Kambala is a traditional annual buffalo race.
It is held in the coastal districts of Karnataka.
Karnataka High court has put a stay on the event in 2016, after a PETA petition.
After Tamil Nadu united to the save its tradition bull taming event Jallikattu despite a ban by the Supreme Court, Kannadigas are now coming together in support of lifting the ban on Kambala.
Kambala is a traditional annual buffalo race in marshy fields, held in the coastal districts of Karnataka.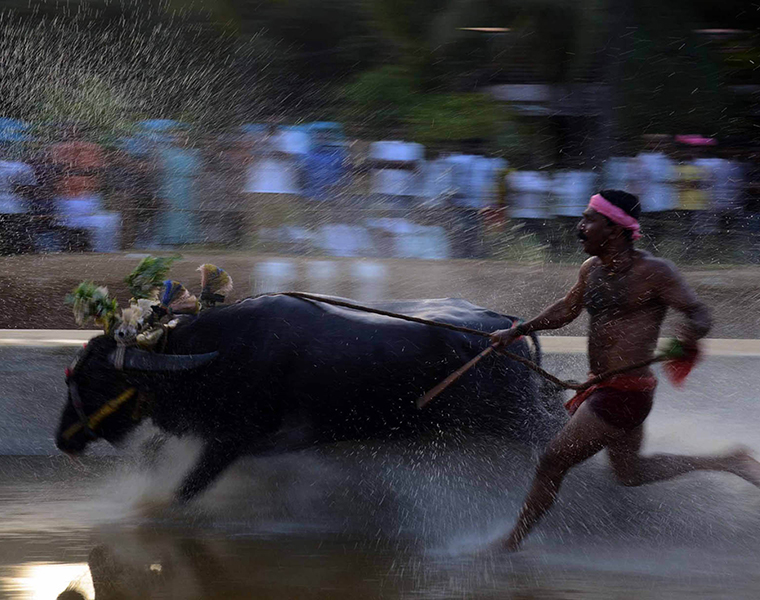 Karnataka high court's division bench, headed by Chief Justice S K Mukherjee in an interim order in November 2016 had stayed holding of Kambala on a petition by PETA challenging it in view of orders passed by the Supreme Court on Jallikattu.
Kambala committees have filed an interim application, seeking vacation of the stay.
Spurred by the Jallikattu agitation in Tamil Nadu, Kambala committees have decided to meet in Mangaluru on Sunday to strategise their agitation.
"By coming Wednesday or Thursday we are also planning an agitation in this region. By organising a large-scale agitation in Mangaluru we want to attract the attention of politicians and the whole nation."
"Kambala lovers from Udupi and Mangaluru regions and 150-200 pairs of buffaloes will participate in it," Kamabala committee president Ashok Rai said.
He said "when Jallikattu has got permission, Kambala should also get it, because no violence is involved in it. It is part of our cultural heritage."
P R Shetty, member of Kambala committee lashed out at PETA. "Kambala has been disrupted because of PETA's ill intentions. We have faith that we will get legal victory also. There is lot of difference between Kambala and Jallikattu," Shetty said.
The ban has sparked a debate on whether the event amounts to cruelty to animals or it was just a simple rural sport, which involves racing of buffaloes in paddy fields filled with slush and mud that draws a large number of people.

Kambla in its traditional form is non-competitive with buffalo pairs made to race one after another in paddy fields, which is considered a thanksgiving to the Gods for protecting the animals from diseases.

Over the years, it has however become an organised sport with animal rights activists claiming that the buffaloes run in the race due to fear of being beaten, which the organisers dismiss, saying no violence is involved and that several modifications had been made to ensure that it is an animal friendly event.
The next hearing on Kambala case will be held on January 30.
On social, the cause is fast gaining momentum. Kannada actor Jaggesh also has lent his support for kambala. "Let there not be a divide — Uttara Karnataka or Dakshina Karnataka. Let us all stand united," he tweeted.
Actor Yash told Bangalore Mirror that he was in favour of the sport.
"Farmers take care of their cows and buffalos like they take care of their children. The care for buffaloes is not just during the Kambala races but throughout the year. There is a special relationship and attachment between the farmers and their animals. It is our identity we will lose if Kambala is banned. I am in favour of Kambala. It is not only about Kambala, and not just about one sport in Karnataka or Tamil Nadu. We cannot allow our nativity to be stamped out," he told BM.
Last Updated 31, Mar 2018, 6:47 PM IST