Jumbo's emotions baffles Karnataka forest officials
The forest officials have issued a warning regarding the isolated elephant.
The farmers witnessed a loss of close to ₹ 5 lakh.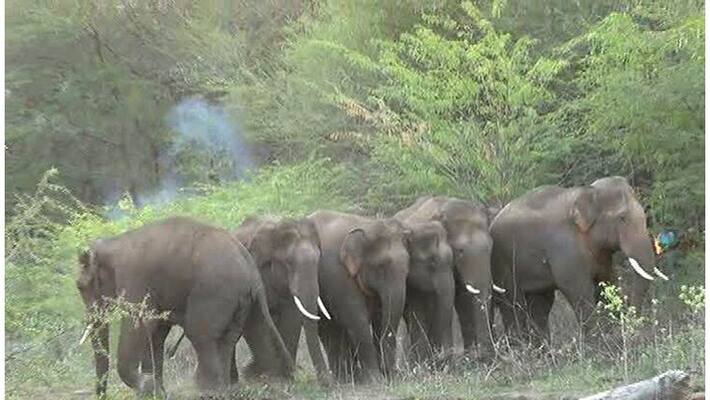 Bangarpet, a small town in Kolar district in Bengaluru, witnessed havoc after a herd of seven elephants strayed into the farm fields. The farmers, who witnessed a huge loss, were relieved as the forest officials chased these elephant back to Tamil Nadu's Krishnagiri border. But these elephants refused to go back because they are waiting for a lost member of their herd to join them.
From Banana, Paddy, Maize to Ragi and every other vegetable crop that is grown in Kammanahalli, Chikkakalppalli and other villages in Bangerpat Taluk were destroyed by these elephants. The farmers witnessed a loss of close to ₹ 5 lakh.
However, the forest department officials came up with an announcement about the chances of the herd returning.
Ramalinge Gowda, the Deputy Conservator of Forest, Kolar said, these animals entered Karnataka from Tamil Nadu's Krisnagiri Forest limits and they were supposed to enter Andhra Pradesh via Chithoor. But the forest officials from Andhra Pradesh chased the animals back into Karnataka by bursting crackers. The officials resorted to this decision as they did not want their crop to be destroyed.
"Out of 7 elephants, three elephants are female and four are bull elephants, due to the disturbance one bull elephant got isolated and has been missing since then. The remaining members of the herd were chased back to Tamil Nadu through Kamasamudra route. The animals have taken shelter in a small rocky area surrounded by thick bushes. We were very surprised by this behaviour of elephants," Gowda said.
Animal behaviourist, Krithika, who joined the team of forest officials in the operation to chase back these elephants back into the woods of TN, observed that these elephants are very social in nature and will wait until their family member joins them. In case if he does not join the rest, there are chances of these elephants will come back in search of the isolated and lost elephant.
The officials have also issued a warning for the villagers regarding the isolated elephant, who can turn out to be very dangerous.
Last Updated Mar 31, 2018, 7:00 PM IST