Jishnu Case: Kerala govt issues ad justifying police action
Ad said government action is in right direction and there are no lapses
Neither family members nor relatives of Jishnu were arrested
The parents and relatives of Jishnu have expressed full faith in the investigation
Tension was created by outsiders who sneaked into the agitating group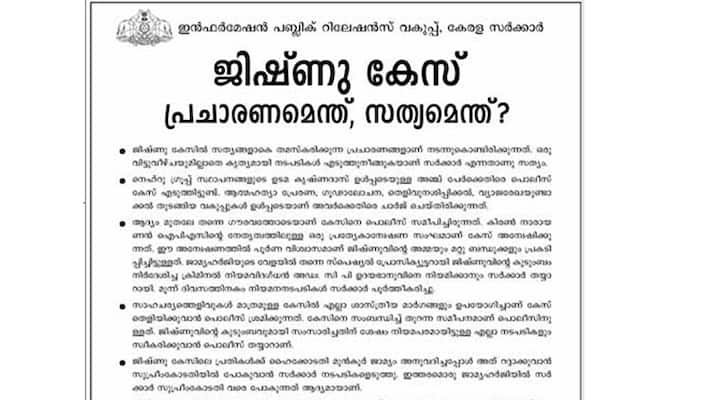 Kerala government has come out with an advertisement justifying police action against Mahija, mother of Jishnu Pranoy. The Information and public Relations Department of Kerala has published the advertisement in almost all vernacular and mainstream dailies. 
 
The ad titled, 'Jishnu case: Rumours and reality' says that the rumours over the arrest and removal of Mahija during agitation before DGP's office are completely against the truth. 
 
The move aims to limit the damage caused to the government by police excess during the protest of Jishnu Pranoy's parents and relatives demanding the arrest of all accused. The advertisement attempts to justify police action and measures taken by the government to bring culprits to book.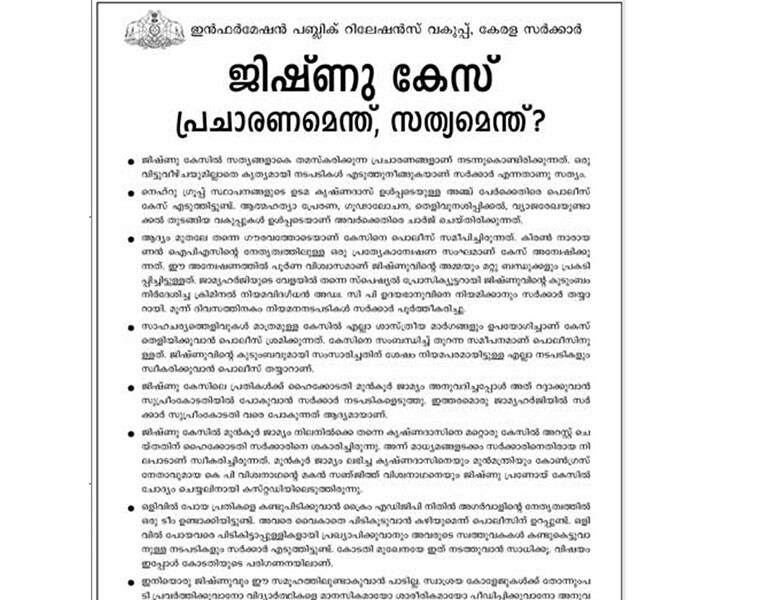 "The propagation in Jishnu case is against the truth. The fact is that government's action is in right direction and there are no lapses. A case has been filed against five accused, and they have been charged with abetment to suicide, distortion of evidence, fabricating documents and conspiracy," the advertisement says. 
 
"Government approached Supreme Court to quash the anticipatory bail of accused. The case is being probed by a Special Investigation Team led by Kiran Narayan. The parents and relatives of Jishnu have expressed full faith in the investigation. Police have been investigating the case, in which only circumstantial evidence exists, by applying scientific methods," the ad reads. 
 
It further clarified that police did not arrest any of the relatives of Jishnu, but a section is spreading rumours that Jishnu's mother was dragged along the street. It also reiterated police statement that tension was created by outsiders who sneaked into the agitating group. 
Last Updated Mar 31, 2018, 6:59 PM IST