The doctors reached a consensus that not much could be done since no intrinsic heart rhythm was found
Under family the only name mentioned was Sasikala
The report details how on the night of September 22, 2016 medics were called to Poes Garden around 10 pm where the former chief minister J Jayalalithaa was treated for breathlessness and was shifted to the Apollo Hospital Emergency Room around 10.25pm.
The report further highlights how she later developed severe bradycardia and hypotension and was put on a respiratory system. Later on her condition improved and she interacted with family members and government officials.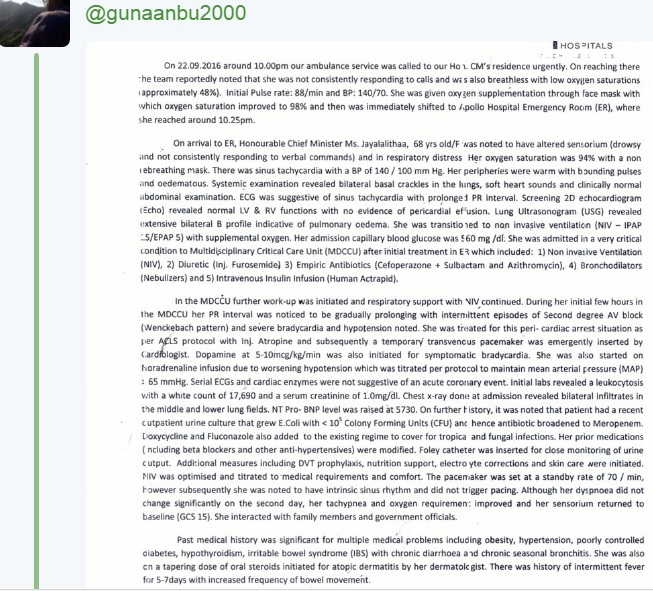 The Centre had sent a team of doctors on December 4, 2016  from the All India Institute of Medical Science to Apollo Hospital, in Chennai, where J Jayalalithaa was undergoing treatment after suffering cardiac arrest. The team of AIIMS doctors included pulmonologist Dr GC Khilnani, anaesthetist Dr Anjan Trikha, cardiac surgeon Dr Sachin Talwar and cardiologist Dr Rajiv Narang.
On December 5, 2016, Jayalalithaa's condition worsened. The doctors reached a consensus that not much could be done since no intrinsic heart rhythm was found. The decision that nothing more could be done was conveyed to Chief Secretary, Ram Mohana Rao, O Panneerselvam whom they referred to as Senior Cabinet minister, Lok Sabha speaker Thambidurai, health minister Dr Vijayabhaskar , health secretary Dr J Radhakrishnan and family mentioned as Sasikala. All of them understood the situation and consented for removal of the ECMO.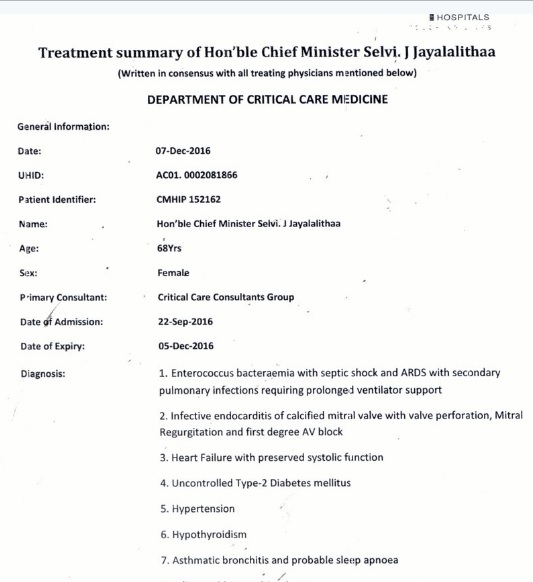 The interesting thing to note here is that O Pannerselvam was, according to this report, involved in the decision to take Amma off the ventilator and also the 'family' referred to in report refers to Sasikala only.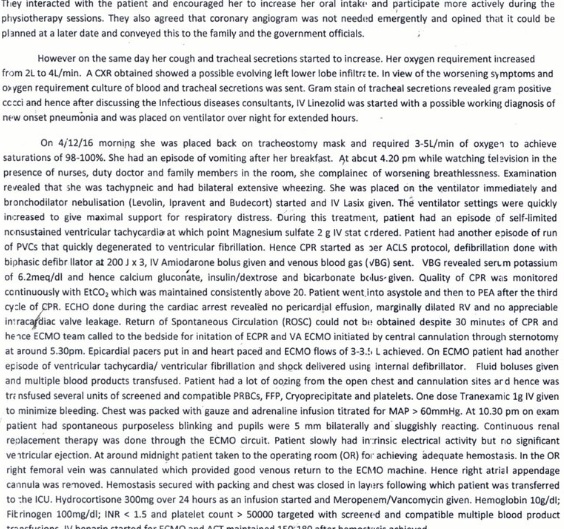 After the O Panneerselvam vs Sasikala fight for the Chief Ministership of Tamil Nadu, many a times questions about Jaya's death had been raised with OPS even promising to launch a probe if he became CM. So, the Palanisami government requested AIIMS for the visit notes of the team of doctors - for official records. Following this, the medical report was handed over by V Srinivas Deputy Director Administration AIIMS to State health secretary J Radhakrishnan, at New Delhi, on Monday. The government wants to prove that insinuations of Jayalalitha being given wrong drugs is false.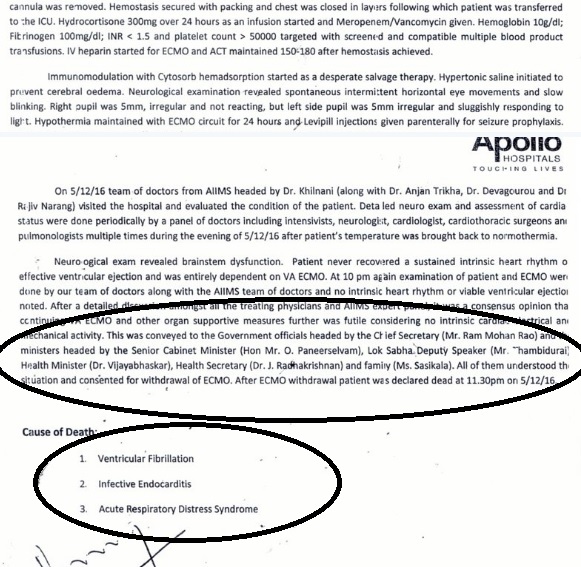 This comes on the heels of OPS announcing a protest fast on March 8 demanding more clarity into the AIADMK supremo J Jayalalithaa's death. The suspicion and mystery surrounding Jayalalitha's death heightened when an image of her body with four holes on the face emerged and also that during the whole hospital stay no one heard or saw Jaya interact with anyone else apart from those close to her – Sasikala.