AIADMK leader PH Pandian has alleged that Jayalalithaa's death was not natural
His press conference comes after a day Dr Richard Beale said that Jaya died of multi-organ failure
Pandian has opposed Sasikala's desire to be the CM, saying that Sasikala had cheated them
In a surprise press conference in Chennai, AIADMK leader Pandian alleged that former CM J Jayalalithaa was pushed to her death, and did not die naturally. His allegation comes soon after Dr Richard Beale ruled out any conspiracy and said Jayalalithaa died of multi-organ failure. A day later, Pandian contradicted Dr Beale's statement, and claimed that someone pushed Jayalalithaa and that she was taken to the hospital in a wheelchair.
Pandian also expressed his anger against Sasikala taking over as the Chief Minister, declaring that she had cheated them all. He also questioned her appointment to the post of AIADMK Legislative Party Leader. While the AIADMK held a second press conference dismissing all of his allegations, Pandian refused to be cowed in any way. Speaking to NDTV, he doubled down on his allegations.
Among the other allegations, he added that Jayalalithaa used to fear that she would be poisoned by Sasikala and others. Pandian also claimed that there was a 'war of words' between Jayalalithaa and Sasikala's family and that Jaya had clearly told the party that she did not want Sasikala to succeed her.  
Watch: Watch: Jayalalithaa died much before Dec 5, claim conspiracy theories
"Sasikala has cheated us (AIADMK members) and wants to be the chief minister. We will not let that happen," said Pandian.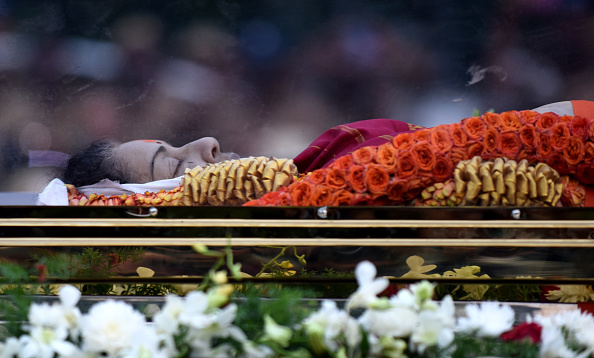 Pandian, who had not spoken anything against Sasikala until now, spoke out at a time when Sasikala has made her intentions to be the Chief Minister clear.  Perhaps after Dr Beale spoke about Jayalalithaa's treatment in Apollo Hospital, Pandian might have felt the need to lay out his allegations.
Also Read: Jayalalithaa was on wrong medicine says leaked mail from Apollo
However, sources said that the AIADMK members have decided not to comment on Pandian's claims.
Also Read: Welcome to Sasikala's draconian rule in Tamil Nadu
It can be noted that Sasikala had made all arrangements to be sworn in as the Chief Minister of Tamil Nadu, today. But the state Governor's sudden decision travel to Mumbai has put her plans on hold. Sasikala even made the incumbent O Panneerselvam step down from the CM's post, which attracted criticism from many leaders inside the party.
Last Updated 31, Mar 2018, 7:00 PM IST