Jayalalithaa was on wrong medicine says leaked mail from Apollo
A leaked mail stated that Jayalalithaa' was given wrong medicine for diabetes when she was brought to the hospital
Secrecy maintained about Jaya's treatment and death supports this conspiracy theory
Any fair probe is doubtful as Sasikala has been chosen the chief of AIADMK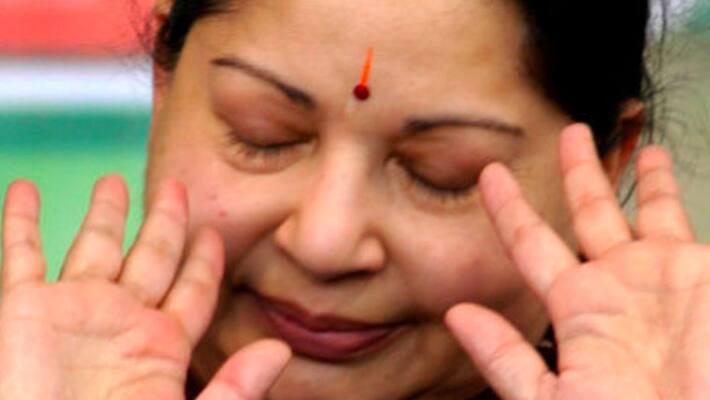 Many conspiracy theories are already doing rounds about Jayalalithaa's death, due to the secrecy maintained about her treatment.
Also Read: Watch: Jayalalithaa died much before Dec 5, claim conspiracy theories
This is the new addition to the theories which cannot be baseless because the mail is based on the conversation with one of the important staff of the Apollo hospital in Chennai, where Jayalalithaa was being treated.
The letter is passed on to some staff of the channel in 'Off the record' mode. Barkha refers it to information got from one of the Reddy sisters from Apollo Hospital. Tthe mail uses the term she which refers to Jayalalithaa.
This is what the letter states: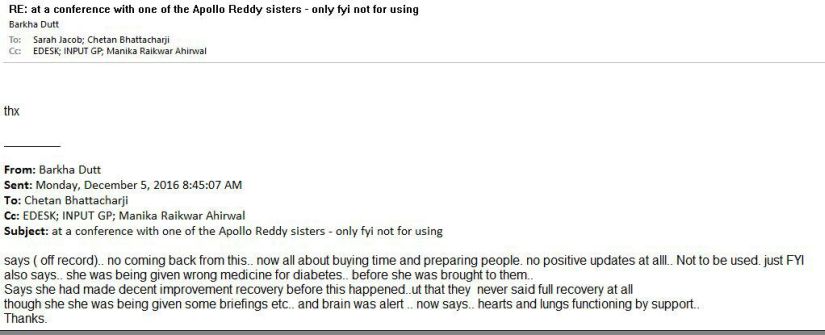 The four Reddy sisters namely,Preetha, Suneetha, Sangeetha and Shobhana, daughters of Prathap C Reddy are part of the Apollo Hospital in Chennai.
It can be noted that no one including Jayalalithaa's relatives were let inside the Apollo Hospital in the 73 days she was in the hospital. Her close aide Sasikala was the only one inside the hospital and did not allow anyone inside.
Also Read: All you need to know about Sasikala, Jayalalithaa love-hate relationship
In fact, Jayalalithaa's photos were also not released from the hospital. In one instance, a letter with Jaya's thumb impression was sent out. All these indicate that something wrong was happening and there was no way to find out what was it, as no one had the access to Jayalalithaa's hospital room.
Also Read: Cannot sign? Jaya leaves thumb impression on poll document
Jayalalithaa was admitted to Apollo on September 22 and she allegedly died of a massive cardiac arrest on December 5.
Not only current times, but even MGR, when unwell was being treated in the US. But when Jayalalithaa was critically ill too, she was not taken to a different hospital for treatment.
There were even rumours that Jayalalithaa was also being fed arsenic content with food, which acts like slow poison. Following which, Jaya sent Sasikala with her 40 relatives and helpers who were staying with her in her Poes garden bungalow.
Thus this e-mail has surely made people question about maintaining secrecy about Jaya's treatment even now.
The mail was found originally marked to Barkha Dutt on December 5. But on December 15, NDTV had an announcement to make that E-mail and Twitter handles of the channel staff have been hacked. The group called Legion had hacked Barkha's E-mail and Twitter handle.
Also Read: Meet the hackers who give us dirt on Rahul, Barkha and Mallya
This apart, Sasikala being chosen as the AIADMK chief, it is doubtful that any information regarding Jayalalithaa's death will come out.
Also Read: Sasikala is the new party chief, announces AIADMK
Last Updated Mar 31, 2018, 6:54 PM IST