Jayalalithaa to undergo surgery today, more ministers visit
Apollo doctors will conduct the operation with the help of the All India Institute of Medical Science (AIIMS) Delhi.
Doctors have said that she has to be kept under ventilator for a few more days.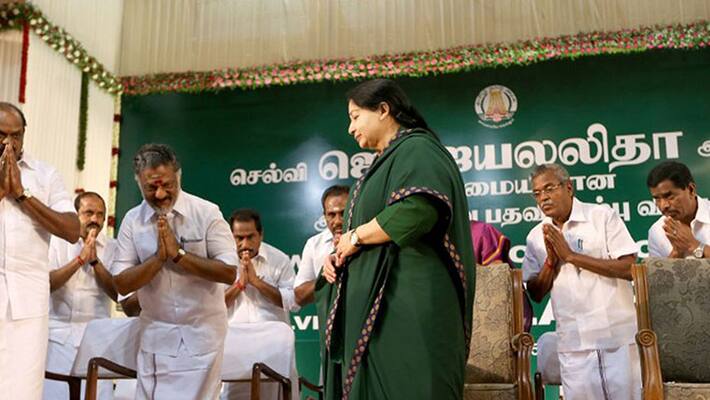 According to sources in Survana News, doctors in Appollo Hospital will conduct a Tracheostomy surgery, which will enable the Tamil Nadu Chief Minister Jayalalithaa to breathe through her throat. 
Currently, she is reportedly unable to breathe normally and being kept on a ventilator.
The doctors will conduct the operation with the help of the All India Institute of Medical Science (AIIMS) Delhi.  
Union minister M Venkaiah Naidu visited Apollo Hospitals and said Tamil Nadu Chief Minister Jayalalithaa was responding to treatment even as the day witnessed visits by several other leaders, including Puducherry Chief Minister V Narayanasamy, and prayers across the state for her speedy recovery.
    
"I had a detailed briefing by the doctors over the treatment that is going on; they told me that she is responding to the treatment. I am confident that she will be normal and she is improving," Naidu told reporters after visiting the Hospital.
    
In the backdrop of questions being raised about her health conditions, Naidu said there should be no speculation and rumour-mongering as the hospital is regularly giving details about her condition.
    
"It's nor fair...especially when a person is being treated in a hospital," he said.
    
PMK leader and Lok Sabha MP Anbumani Ramadoss said, "We were told that she is improving. We wish her a speedy recovery and wish her to resume her work."
    
He said he spoke to doctors and AIADMK leader and Lok Sabha Deputy Speaker M Thambidurai and Health Minister C Vijaya Baskar.
    
"I pray to the almighty that she recovers fully and get back to her routine. I am fully confident that she will recover soon," Narayanasamy said.
    
Tamil Maanila Congress chief G K Vasan also visited the hospital where Jayalalithaa is undergoing treatment since September 22. He said she is being given specialised medical care.
He met the director of the hospital and interacted with doctors, state ministers and was told that she is improving.
    
"Our best wishes to Chief Minister Jayalalithaa for a speedy recovery. We wish on behalf of Tamil Maanila Congress that she should resume her work for the people," he said.
    
CPI leader and Rajya Sabha MP D Raja said he spoke to doctors and AIADMK leaders present at the hospital and expressed his party's wishes for her early recovery.
Meanwhile, special prayers continued at places of worship in the state for Jayalalithaa's speedy recovery. After observing ritualistic stipulations for days, a massive "milk pot" procession was taken out in Madurai by AIADMK workers and supporters in which a sizable number of women workers participated.
    
The procession began from Saravana Poigai tank and culminated at the Subramania Swamy temple in Tiruparankundram where the milk carried in pots was used for worship by them. State Revenue Minister R B Udhayakumar and his party workers participated in the prayers.
      
Also, yajnas were performed in several temples seeking a healthy and long life for Jayalalithaa in which former state minister Valarmathi participated.
    
Similarly, special prayer sessions were organised at various churches. 
Last Updated Mar 31, 2018, 7:05 PM IST