Jayalalithaa still unwell: What is likely to happen in AIADMK?
One cannot become Tamil Nadu's interim CM without Sasikala's nod.
Front-runner Panneerselvam does not have very good relations with Sasikla.
The Gounder community is not willing to let Sasikala call the shots.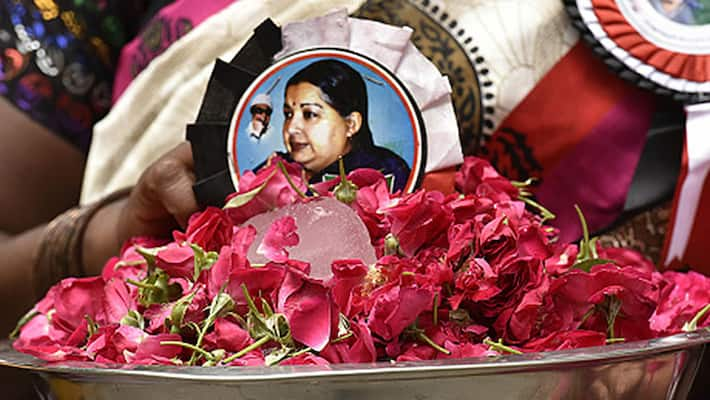 Fact number one: There is no number 2 in the AIADMK
Fact number two: Several ministers fancy themselves as a stopgap arrangement
With Apollo Hospitals making it clear that chief minister Jayalalithaa would have to spend a longer time with them, Chennai is abuzz with the possibility of an acting CM or a deputy CM being appointed. 
Sources say if there is no consensus on any name, Jayalalithaa will continue as CM without portfolio, with her key portfolios like Home and General administration distributed between two senior ministers, Finance minister O Panneerselvam and PWD minister EK Palaniswamy. Significantly, these two ministers met Governor Vidyasagar Rao at Raj Bhavan on Friday.  

The last 24 hours have seen furious moves on the AIADMK political chessboard. The party is divided on caste lines, with the Gounders and the Nadar community MLAs opposed to a Thevar getting the top job. 
Both Sasikala, Jayalalithaa's trusted aide and O Panneerselvam (or OPS as he is referred to) who stood in for Jayalalithaa twice as CM, in 2001 and 2014, belong to the politically powerful Thevar community. With the common binding force Jayalalithaa not in a position to impose her decision on her partymen now, the faultlines now stand exposed. 

When MG Ramachandran was hospitalised in 1984, his seniormost minister VR Nedunchezhiyan held fort with support from RM Veerappan but neither of them were made acting chief minister. The state continued with this arrangement for more than four months and the AIADMK even won the 1984 election from his hospital bed in the US. 

The AIADMK would like to follow the same template now but then 2016 is not 1984. There is pressure from different quarters - opposition, public and an aggressive mainstream media and social media - that Tamil Nadu cannot be found wanting for lack of credible political leadership. 

Sources in the AIADMK say OPS is unlikely to score a hat-trick at the office. Relations between him and Sasikala, easily the second most politically powerful person in the AIADMK, are not said to be too good. Thevar community MLAs in the party are split in their loyalty between Sasikala and OPS, with the former having a clear edge. This means no one can become the interim or acting CM, till such time that Jayalalithaa is back, without Sasikala's nod. 

The Gounder community led by deputy speaker of the Lok Sabha M Thambidurai is not willing to let Sasikala call the shots. What goes in his favour is that, having worked most of his political career in Delhi, he has a good equation with the BJP leadership. So if the national party wants to push someone in Chennai, Thambidurai may well be the choice. 

The Nadar community's cause is being fought by an 'outsider', Sasikala Pushpa. The Rajya Sabha MP who belongs to the Nadar community, was expelled from the party in August by Jayalalithaa and in an outburst on the floor of the House, she called the AIADMK a party of slaves. With her animosity towards Jayalalithaa and Sasikala, she would try her best to create a rift in the legislature party. 

But even while infighting is on between different groups, without any of it coming out in the open, the fact remains that the AIADMK legislature party also knows that divided they will fall. The present assembly has four years and eight months more to go and it would be foolish for the MLAs to risk a split in the party and have Tamil Nadu put under President's rule. Already BJP Rajya Sabha MP Subramanian Swamy's letter to Union Home minister Rajnath Singh asking for central rule for six months has set the cat among the pigeons. 

The AIADMK knows the DMK is also waiting in the wings. It has 89 MLAs and needs another 30 MLAs to make Karunanidhi CM yet again. Given the kind of money each AIADMK MLA has spent to get elected in May, the practical politician in them will weigh all options before deciding on a name. 
Last Updated Mar 31, 2018, 6:47 PM IST