Jayalalithaa had not appointed Sasikala or anyone else as her successor said Deepa Jayakumar
Chinnamma has given valuable suggestions to Amma regarding party administration and also on governance, said Thambidurai
The well-oiled wheels of Tamil Nadu have begun their work. Politics in this state does not stop for any man or woman. Even before announcing the death of Jayalalithaa, the former chief minister, O Panneerselvam had taken his oath as the new Chief Minister of Tamil Nadu. There was another name which was taken with every report on Jayalalithaa's health and that was Sasikala, the close friend confidant of the former CM for the past 35 years. Now the inevitable has also happened: Thirumathi Sasikala (Chinnamma to the party members) is urged to take on the role of AIADMK party chief.
Also watch: Sasikala's journey: from small-time videographer to AIADMK's power centre
Already when Jayalalithaa was hospitalised rumours were doing rounds of Sasikala being the actual power behind the CM. Afraid of what the future held for the AIADMK party Sasikala Pushpa, a Rajya Sabha MP and an expelled member of the AIADMK, had written to the Governor of Tamil Nadu, stating that she fears that someone close to Chief Minister J Jayalalithaa might forge her signature to nominate a deputy in her absence.
The fingers were already being pointed at Sasikala. She had alleged that Sasikala Natarajan, in the name of Jayalalithaa, was "controlling all the officers in the state and trying to gain power within the party".
Sasikala Pushpa is not the only one who has voiced her concerns regarding the nomination of Sasikala to a place of great importance in the AIADMK and the state of Tamil Nadu. Jayalalithaa's niece Deepa Jayakumar has also objected to the ministers asking Sasikala to take over the reins as AIADMK General Secretary.
In a media interview, Deepa is reported to have categorically said Jayalalithaa had not appointed Sasikala or anyone else as her successor.
Also read: Jaya's niece: They didn't let me see my aunt, stopped me at the gate
But now with news of Tamil Nadu Chief Minister O Panneerselvam backing V K Sasikala for the post of AIADMK General Secretary  and another senior leader and Lok Sabha Deputy Speaker M Thambidurai also batting for her to take over the reins and people in Tamil Nadu are fearing that their nightmare might just come true.
Thambidurai had backed Sasikala for the post with the words: "Ms Sasikala had even given suggestions to Jayalalithaa on party affairs and governance in the past."
Press Release made by Dr. M. ThambiDurai, Propaganda Secretary of the Party and Deputy Speaker of Lok Sabha. pic.twitter.com/peRxuiMUcW

— AIADMK (@AIADMKOfficial) 11 December 2016
He was heard heaping praises on Sasikala: "Chinnamma has given valuable suggestions to Amma regarding party administration and also on governance. Like this, the list of traits of Chinnamma can go on."
A statement which completely exposes the truth in the rumours of Sasikala being the actual magnet that held the Iron Lady's power in the Centre.  
Also read: Sasikala: The only 'constant' in Jayalalithaa's turbulent life
It seems the culture of woman worship in this party will continue with Sasikala climbing on the party seat. Sasikala, as we know, has no political experience yet, but because of her closeness with Jayalalithaa, she is being foisted onto this position of power as the AIADMK General Secretary.
While there is no visible political experience, we all know how Sasikala influenced and monitored Jayalalithaa's governance closely and how files used to pass through her and then go to the CM for approval. Her role in the hospitalisation of Jaya is also under suspicion with many doubting the secrecy of the whole thing. A age old report of how Sasikala might be giving slow poison to Jayalalithaa is doing the rounds now.
Further on the night of Jayalalithaa's death, the corridors of Apollo hospital witnessed a coup of sorts, where the party members were sworn to secrecy. It is alleged that they were each ordered, allegedly by Sasikala, to sign three blank A-4 pages that had no information other than a list of their names. Each signed next to their name. No information was provided on how the signatures would be used. They were also made to sign a register that would establish that a party conclave had been held.
The power balance has already shifted as one can see posters of Sasikala dominating the walls of Chennai. Poster politics in Tamil Nadu also indicates the machinations of power in the state. Where previously Amma used to be the dominating figure on any party poster, presumably because of her CM status, it is now Sasikala's frame that fills the posters and Amma's, MGR and Panneerselvam photos are being relegated to the background.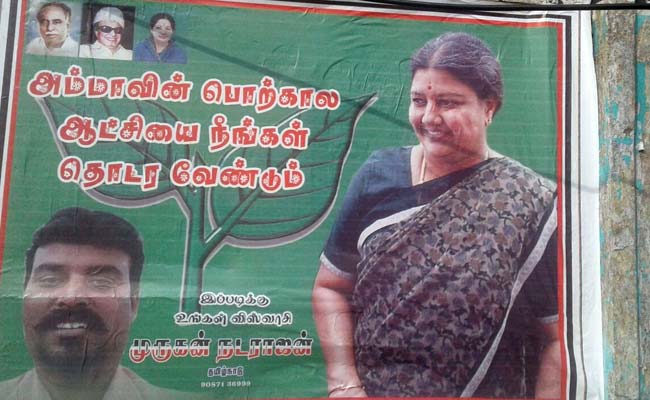 Saiskala on a poster in Tamil Nadu.
 Credit
The body language and placement of ministers and people around Jayalalithaa's funeral entourage also sent out a different message. The presence of Sasikala's estranged husband and other family members around the casket led to rumour mills working overtime. The AIADMK cadre watched how Sasikala's family members ran the proceedings and what was equally surprising was that chief minister O Panneerselvam, was seated on the steps below. The shadow behind Jayalalithaa had finally assumed a life of its own.