Jaya holds meet on Cauvery issue from hospital bed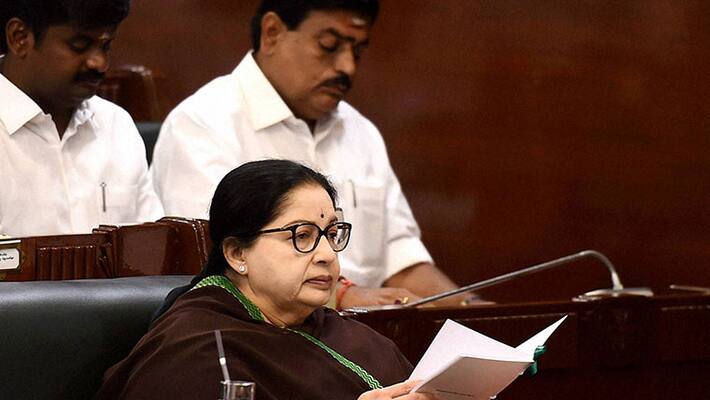 Holding an official meeting on the Cauvery row at a hospital here where she is being treated, Tamil Nadu Chief Minister, Jayalalithaa, today deputed a cabinet colleague to attend a meeting with her Karnataka counterpart and the Centre as suggested by the Supreme Court on the issue.
Hours after the Supreme Court asked the Centre to convene a meeting of executive heads of Tamil Nadu and Karnataka to solve the inter-state Cauvery row; she nominated state PWD Minister, Edappadi S Palanisamy, to represent the state at the meeting, to be held in the next two days.
Jayalalithaa, undergoing treatment for fever and dehydration, held an hour-long consultation with state Chief Secretary, P Ramamohana Rao, Advocate General, R Muthukumarasamy, and other senior state officials at the Apollo Hospital in the city, where she was admitted on September 22.
She "was apprised" of the directions of the Supreme Court to Karnataka to release 6,000 cusecs of Cauvery water to Tamil Nadu for the next three days besides asking the Centre to convene a meeting of the two chief ministers to find a solution to the impasse over water release, an official release said.
"The chief minister was apprised that the Supreme Court had directed the Attorney General to facilitate a meeting with Executive Heads of the States of Tamil Nadu and Karnataka with the Ministry of Water Resources to recommend ways to break the impasse on the issue," it said.
Jayalalithaa was informed that the meeting was likely to be scheduled on September 29, and she directed the PWD Minister, the Chief Secretary, PWD Principal Secretary S K Prabakar, and Chairman, Cauvery Technical Cell, R Subramaniam to attend the meeting on behalf of Tamil Nadu, the release said.
She discussed in detail the issues to be taken up by Tamil Nadu at the meeting and also "dictated" her speech which will be read out there by Rao, it said.
The chief minister was also apprised of the applications filed by Tamil Nadu and Karnataka with reference to the apex court's earlier orders this month on water release.
She was briefed about the application filed by Tamil Nadu that Karnataka shall not be heard on any matter on Cauvery until and unless it complies with and makes good the shortfall in releases as directed by the Supreme Court, it said.
Earlier today, the apex court directed Karnataka to discharge 6,000 cusecs of water to Tamil Nadu till Friday inspite of Karnataka Assembly resolution expressing the state's inability to release water.
The court also called for a political solution to the impasse by convening a meeting of chief ministers of the two states and the Centre.
Last Updated Mar 31, 2018, 6:34 PM IST