'How ill is the CM?': CM Jaya's health shrouded in mystery
Concerned citizens have held pujas and even petitioned the President.
In response to the growing doubts, the AIADMK ran a hashtag – #MyCMisFine
Governor Vidyasagar's answer was a statement that thanked doctors but did not mention anything else.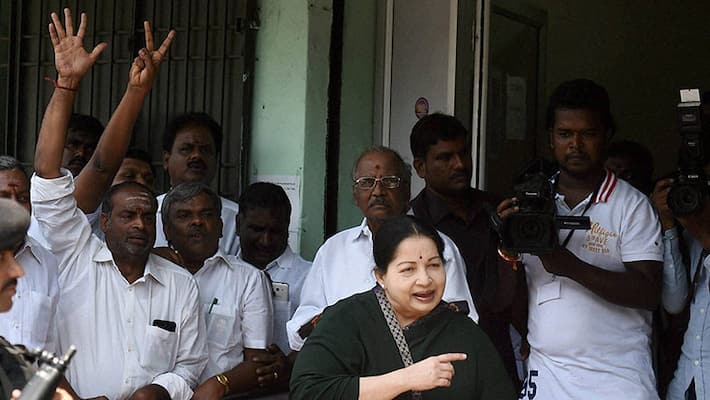 Representing this sentiment of seven crore people of the state, a Supreme Court advocate - Reegan S Bell, wrote to the President seeking the Governor's intervention. Even the anxious opposition seconded this with DMK supremo Karunanidhi demanding a clear picture about Jayalalithaa's health "to ward off rumours".
Rumours aplenty as social media claimed 'she is on ventilator', 'she is suffering from kidney failure', et all. AIADMK was quick to catch the person allegedly spreading such rumours and even went ahead with the hashtag - #MyCMisFine.
The Governor Vidyasagar answered in the form of a statement that thanked the doctors for the 'best treatment' being administered. However, there is nothing about her 'medical condition'. If one has to go by the medical bulletin issued by Apollo Hospital, Greams Road, Chennai, mere fever and dehydration won't translate to seven days of being hospitalised.
According to sources, Jayalalithaa was admitted to Apollo on 22nd September with acute illness. Fluid in her lungs, resulting in heavy breathlessness, necessitated the use of a ventilator. Dr Richard John Beale, top intensivist from the UK flew in to examine her on Friday. This only goes to suggest her critical condition. Another source mentioned that it would be a miracle if she survives.
"Miracles happen. Nothing will happen to Amma," said Anbarasu, an Amma bhakt from Salem, who came to Apollo to "catch a glimpse of Amma". Poojas were conducted outside the hospital, transforming the place outside into a mini yajna hall.
AIADMK time again talked about meetings convened in the hospital by her to discuss issues of Cauvery at the SC or even the local body elections. However, sources within the party say that barring Sasikala and Ilavarasi; nobody has access to her. Then who is calling the shots?
A picture floating on social media captured a poster on one of Chennai's roads. The message was from the AIADMK's South Chennai vote bank. The message seemed to reflect the growing dissent in the party. It said, "The plan of the Fox will prove futile with our Amma Jayalalitha...Show us our Mother... else we will commit suicide... Do not try to take over the Kazhagam. We will remain slaves of only Amma."
Be it actors like Rajinikanth, Kamal Hassan or even DMK's Karunanidhi, there were videos sent to give us the truth about their health when hospitalised. 
Forget media, why keep the citizens of the state in the dark? Don't those who voted Jaya back to power deserve to know?
Last Updated Mar 31, 2018, 6:44 PM IST