Its local slang: CM justifies Mani's insult on women; Pombilai Orumai launches hunger stir
This is not the first time Mani has insulted women: Ramesh Chennithala
It is only local slang: Pinarayi Vijayan
I have not used the word woman in my speech: MM Mani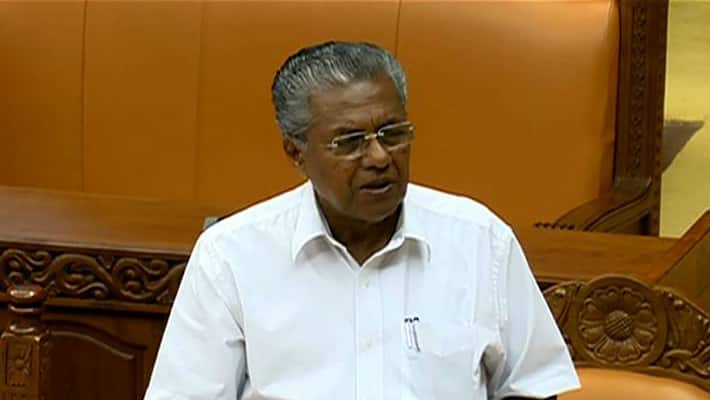 The Power Minister MM Mani's refusal to apologise for his lewd comment on Pombilai Orumai has irked the women's collective, which launched an indefinite hunger stir in Munnar town on Tuesday. BJP, UDF and AAP are backing the protest.
 
Related: MM Mani does it again: Outrage over Minister's insult of Munnar women's stir
 
The minister's controversial statement provoked uproar in the Kerala Assembly. The opposition brought in an adjournment motion and demanded the resignation of MM Mani.
Related: Clamour for MM Mani's head: Is controversial minister on his way out?

In his response, Mani justified his speech and reiterated his stand that he had not insulted women. "I have not used the word women in the speech," the minister said. He criticized the hunger stir by Pombilai Orumai in Munnar.
 
Related: Loose cannon: Five times MM Mani landed CPM, Left govt. in trouble
 
Chief Minister Pinarayi Vijayan also justified Mani and stated that the minister only aired his views in a local slang. Some people are blowing things out of proportion, he added. The Chief Minister had criticised Mani's speech on Sunday. But he preferred to back his cabinet colleague when the clamour for his resignation gained momentum.

"This is not the first time Mani has insulted women," said leader of opposition Ramesh Chennithala, reiterating the UDF's resolve to carry forward the protest against the minister inside and outside the assembly. The UDF legislators stormed into the well of the House with placards and banners demanding the minister's resignation.
Related: Minister Mani's statement lands Pinarayi Vijayan govt. in soup

The Pombilai Orumai protest in Munnar town, which began on Sunday intensified with the agitators launching an indefinite hunger stir demanding resignation of the minister.
Last Updated Mar 31, 2018, 6:32 PM IST