Another IT raid in Bengaluru: ₹2.87 crores recovered
IT raid in a flat in RNS Shantiniketan Nivas in Yeshwanthpur.
The flat was occupied by an old woman and her dogs.
The money was found inside a locked room.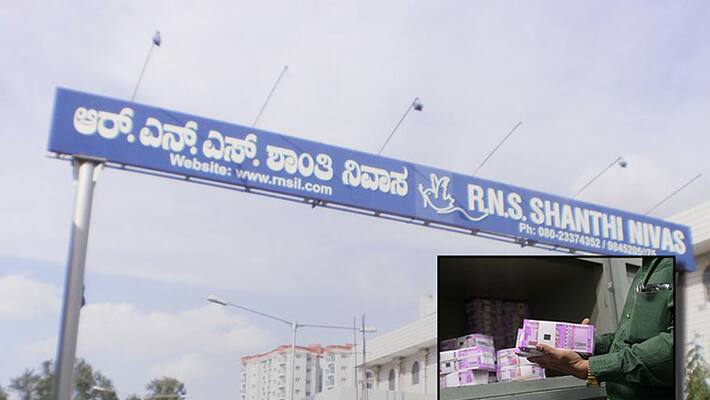 Recently, Income Tax Department officers have raided on a flat in RNS Shantiniketan Nivas in Yeshwanthpur and have seized ₹ 2.89 crores. The money is found in flat number A 508. 
The department tried raiding the place on Tuesday, which was occupied by an old woman named Shakeela Shetty and her dogs. During this first attempt, the lady made the dogs attack the officials on Tuesday night forcing the IT sleuths to returned. 
The next day also same happened but the determined IT officials entered the house with the help of the police, and seized the money kept in a locked room.
The police broke the door open of the room and found the money in new currencies. It is said that the old woman did answer any of the questions of the IT officers. 
Finally, a man called Anand came to the house on Wednesday early morning. Now the IT sleuths have arrested him and are investigating.
Anand had purchased the flat just one month ago, on the very next day of the announcement of demonetisation. He has accepted that the seized black money belongs to him during the investigation. However, he has not produced relevant documents with regard to the money. 
The flat is in the name of the old lady while the money inside the house is of Anand's. The relationship between the old lady and Anand is not known. 
The IT officers infer that Anand is involved in Hawala scandal. Sources also say that he has contacts with many government officers. The investigation is still in progress.
Since the announcement of demonetisation, IT has filed around 36 cases in Karnataka and Goa and has seized ₹ 2.86 crores and 55 kg gold so far. 
Last Updated Mar 31, 2018, 6:45 PM IST