Is state-run Ayurveda firm planning sex booster from antlers?
The KSBWL seeks an amendment to the Wild Life Protection Act to facilitate use antlers of deer for medicinal purposes.
Chief Minister supported it saying that the antlers would be used by state-run Ayurveda drug producing company.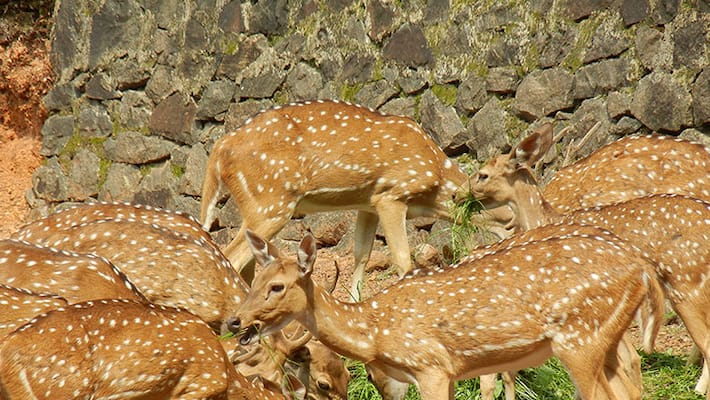 At a time when the nations are destroying tonnes of ivory and precious wildlife trophies to discourage poaching, Kerala State Board for Wildlife (KSBWL) is batting for monetizing antlers of deer. It has decided to approach the Centre seeking law amendment for making it possible.
 
The Board has decided to press for an amendment to the Wild Life Protection Act to facilitate use antlers of deer for medicinal purposes. Though the amendment is sought primarily to hand over the huge pile of antlers in possession of Kerala Forest Department to the state-run Ayurvedic drug manufacturer Oushadhi, the Greens fear that it would in effect give legitimacy to hunting. 
 
A recent meeting of the KSBWL, chaired by Chief Minister Pinarayi Vijayan, decided to approach the National Board for Wildlife and the Ministry of Environment and Forests with the proposal to amend the Wild Life Protection Act 1972.   
The Wildlife (Protection) Act clearly states: 

 Antlers come under the definition of wildlife trophy.  
 A wildlife trophy is the "whole or any part of any captive animal or wild animal".
Keeping or acquiring of wildlife trophy is punishable. 
Custody and transfer to any person is also prohibited. 
Offenders can be imprisonment up to three years and fine up to ₹ 25,000
Poet and environmental activist Sugathakumari, who attended the meeting, told The Hindu that the Chief Minister favoured the amendment despite the objection raised by some members present.  
The greens point out that antlers are not used in traditional Ayurvedic medicines. Though it is widely rumoured as a wonder drug to improve sexual performance, there is no scientific backing to such claims. 
The KSBWL's move to pave the way for using antlers in medicine has triggered speculation that the state-run Ayurvedic medicine manufacturer was planning to produce drugs to spice up sex.

 "Perhaps the cash-strapped government is hoping to find a substitute to Viagra from Antlers and to give a much needed boost to the sagging economy," an environmentalist chuckled. 
Last Updated Mar 31, 2018, 7:02 PM IST