Interview: The other side of Rocking Star Yash
You have seen Yash as a star, here is the star talking about social responsibility
Yash took to himself to do his bit to the society through his trust YashoMarga
Yash talks to Mohammed Yacoob of Aisanet Newsable about his life, water conservation, work and more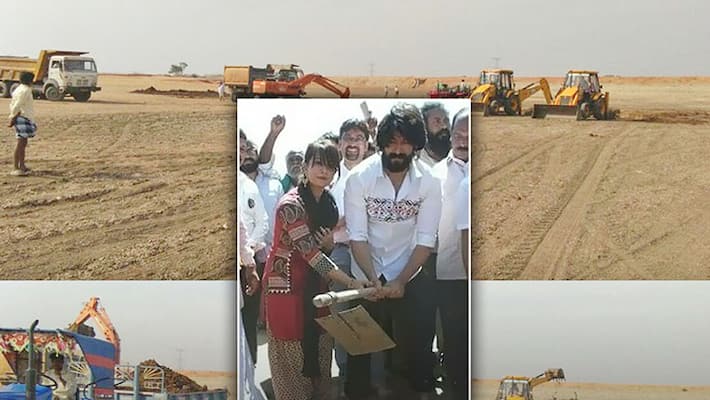 Yash is one name every director wants to work with. He has come up a hard way and has become the star of Kannada film industry in the true sense. The actor recently got married to his sweetheart Radhika Pandit.
The newly married couple performed the groundbreaking ceremony for the water rejuvenating programme at Koppal recently.
In an exclusive interview post his wedding and launch of his campaign to de-silt lakes, Yash spoke to Asianet Newsable about his next venture.
How has your journey in the film industry been so far?
I started my career from Uttrayana, a TV serial, but serials like Nanda Gokula and Male Billu got me in the limelight.
My first film was Jambhada Hudugi, made in 2007 where I appeared in a small role. But my very second film Moggina Manasu got me the needed recognition as I was awarded Filmfare for best-supporting star. Starting from there, my journey here has been good so far.
What made you take up an initiative like lake rejuvenation?
Last time when North Karnataka received good rainfall, we all believed that there would not be any water scarcity and farmers can take up cultivation activities without any difficulties. But I was wrong as there is no provision to arrest the rainwater as water just flows out and does not get collected or percolated. Thus there was the need to rejuvenate lakes. Although we managed to help 160 villages in seven districts of North Karnataka through water tankers, it surely is not a long-term solution. Thus came the thought that only by rejuvenating we can go a long way. Hence, I decided to take to lake rejuvenation.
How will you manage to fund the project as reviving lakes is very expensive?
Yes, it is very expensive. An estimation of Rs 4 crore has been given by my YashoMarga team that implements the work. Over 18 water and irrigation experts have been consulted, and best manpower and machinery is hired. Soon, this lake will be back to life. It may have a storage capacity of over 40 crore litres, and villages will be able to use the water. I have used money from my personnel savings and have not yet decided to approach others for this cause.
Don't you think politicians will take credit for the work you have done?
I am a person of positive thinking. I don't think anyone will hijack my idea or take credit for it. Instead, I think people will join me in working towards the cause. Besides, this work may inspire youngsters to take up the lake conservation work. 
It is speculated that Yash will join politics, and the work is to earn publicity…
No. I don't have to do these things to join politics. I had an offer from a political party two years ago, but I choose to do films and have maintained a distance from the political field. Attributing my social work to join politics is far from reality.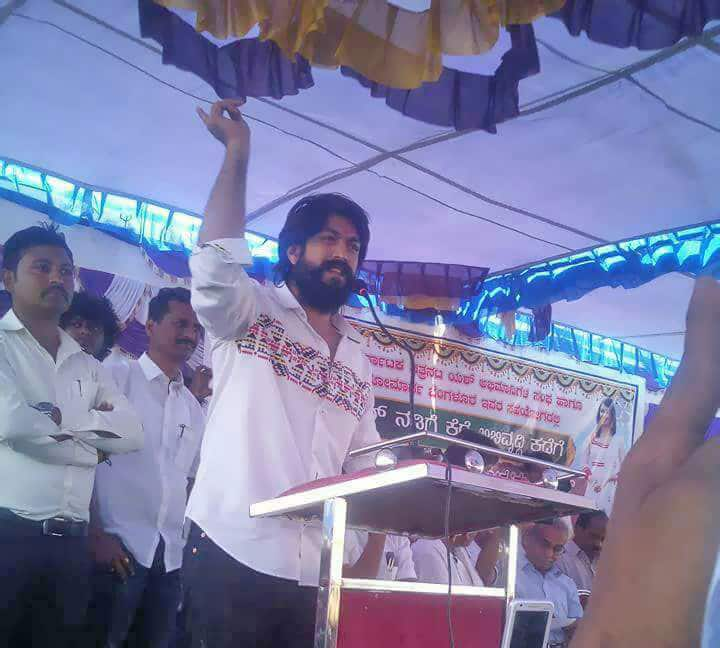 Do you think the government has failed in providing a solution to water crisis?
We cannot expect everything to be done by the government. Instead, we should contribute the society from our end. Take, for example, we have 33,000 lakes in Karnataka and the government cannot de-silt all at once as it requires thousands of crores of money. Even if it does in phases, it will consume time; hence I decided to do my bit by taking up de-silting work at Tallur lake. With this, the ground water level will also improve in few years.
You married your co-star Radhika Pandit. How supportive is she in your social work?
Radhika has always been very supportive; she was there with me in Tallur Village in Koppal district the other day. This kind of support I get from family members and friends keeps me going in doing my bit to the society through my NGO YashoMarga.
Do you plan to do any film with Radhika Pandit post-marriage?
I have no reservations about doing films with Radhika, if the scripts are good and demand both of us to work together, we may consider.
Any films lined up for 2017?
I have two films as of now; shooting for the film KGF will begin from March 13. It is an action-oriented film. Later, I will work on Raana. This film will be directed by my friend and choreographer-turned -director Harsha. I hope to entertain my fans and audience through my work.
Also Read: Rocking Star Yash launches water programme in Koppal, showered with praises
Last Updated Mar 31, 2018, 6:51 PM IST