Cop Suicides. Why doesn't Karnataka wake up?
Four suicides in four months: a growing mystery
Existence of alleged harassment in the police department
Is the department ridden with class-distinction and political interference?­­­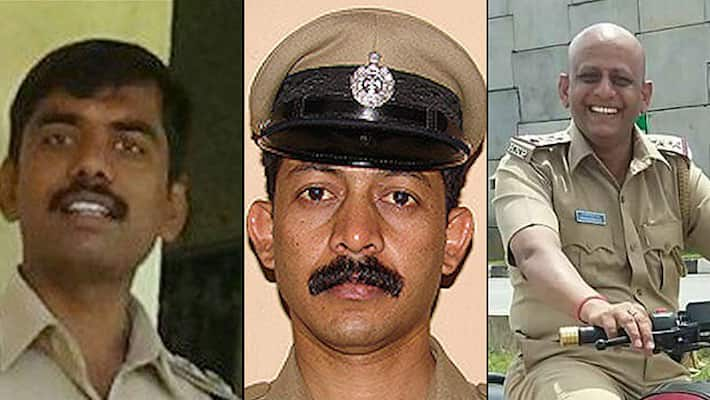 The profound resentment within the Karnataka police department first surfaced in June when thousands of cops threatened to go on mass leave. Every incident following that exposed the troubles brewing. DySP of Kudligi sub-division of Bellary district, Anupama Shenoy, resigned suddenly, raising speculation on the existence of 'harassment' in the department.
Depression literally began in July with two suicides of two DySPs in a span of two days in July. One was Kallappa Handibag, DySP Chikmagalur, and the other was MK Ganapathy, DySP Mangaluru. Ganapathy's video, allegedly recorded a couple of hours before he shot himself to death, raised a furore in the Karnataka Assembly. Ganapathy, in the video, was vocal about the involvement of politicians and police superiors in the alleged harassment.
Two cop suicides have come to light in October alone in a span of one week. Circle Inspector of Malur, Kolar district of Karnataka, Raghavendra, shot himself to death. And on October 27, Police Constable, Yellappa Handibag, committed suicide. It's intriguing to note that Yellappa is the brother of Kallappa, the man who seems to have set a beginning to the spate of suicides. No incriminating evidence in the form of a video like in the case of Ganapathy. Kallappa was allegedly involved in a kidnapping racket, though the CID submitted a report clearing him. Bu,t it was too late. While Kallappa did have an alleged reason, Yellappa leaves the investigating officer puzzled with a death note that blames none.
The family of Handibag reportedly fought against the government and the investigating agencies for a fair probe in the case. In Ganapathy's case as well, there was not enough evidence to investigate any of the persons he accused.
"The master is to be blamed. There's political interference, class distinction and the basics remain neglected. So all of this is not a surprise at all," said Shankar Bidari, former DGP of Karnataka, "What you sow is what you reap. When it's money and class doing the talks, this is what happens."
There is definitely an inherent problem that lies within the department. The missing piece of the puzzle is 'camaraderie' between the officers across ranks. "We understand that there needs to be a sense of discipline. But there needs to be a sense of belonging too. This applies to people of all ranks within the department. Superior officers must know that they are not superior. They can't treat the juniors as slaves," said Gopal Hosur, former state intelligence chief.
Tears of bitterness started flowing over a period of time that has run into decades, say police sources. "It's like a boil. It bursts only when it ripens. And it did on June 4th, when the cops decided to go on mass leave," said Hosur.
Bidari emphatically pointed out the absence of incentives for good work. The murder case of RSS worker Rudresh was witnessed by Central Bengaluru on October 16. How many know the effort put in by the police constables who played a pivotal role in arresting the alleged culprits? "I do want to request the current commissioner of police to give them due recognition," said Hosur.
At the end of it all, the mystery shrouding these suicides can be spelt out only when the internal tussle that has been simmering for long is thoroughly investigated. Four suicides in four months; and there's still no 'wake-up' call.
Last Updated Mar 31, 2018, 6:35 PM IST