RSS demands President's rule in Kerala to stop 'irrigation by blood'
'CPM should be renamed as the 'Conspiracy Party of Murderers.'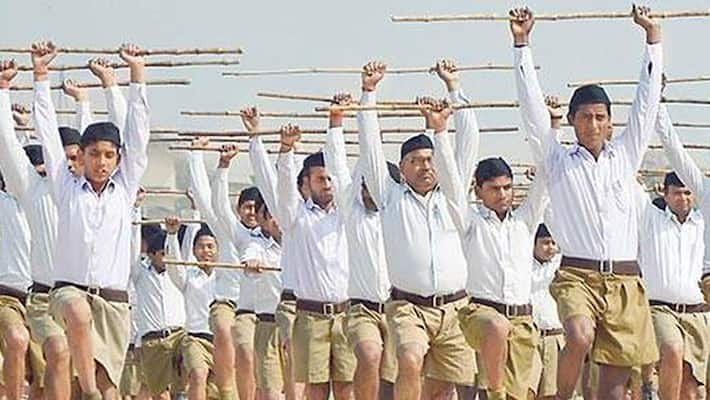 Alleging that the Communist Party of India-Marxist (CPM) was unleashing violence under the Left government in Kerala, the Rashtriya Swayam Sevak Sangh (RSS) demanded imposition of President's Rule in the state. Earlier, the BJP state leadership had demanded deployment of central forces in Kannur, the northern district notorious for political murders. 
 
RSS joint general secretary (Sah Sarkaryavah) Dattatreya Hosabale on Tuesday urged the Centre to dismiss the Left government in Kerala with immediate effect. Drawing parallels between Communist oppression in Cambodia and China and the violence against in Kannur, the RSS leader said that the Communist ideology is irrigated by blood.  The CPM should be renamed as the 'Conspiracy Party of Murderers,' he said while addressing a sit-in protest of RSS-BJP workers in front of Kerala House in New Delhi on Tuesday against the killing of its activists in the Southern Indian state. An RSS delegation also submitted a memorandum to the Union Home Ministry on the alleged CPM violence against its workers. 
 
Related: Kerala CM cuts short Delhi visit fearing RSS protest
 
The sit-in protest coincided with the visit of Kerala Chief Minister Pinarayi Vijayan. But Vijayan cut short his two-day visit to New Delhi and returned to Kerala early morning on Tuesday, inviting criticism from RSS. The Sangh Parivar ridiculed the Kerala CM for fleeing the place without facing the protest. 
The protest was triggered by the murder of a BJP leader at Dharmadam, the constituency of Vijayan, in Kannur on 18 January.  
Last Updated Mar 31, 2018, 6:52 PM IST