How much wealth and property did Jayalalithaa leave behind?
With rumours of Jayalalithaa already naming her successor in her will, speculations about her legacy are ripe
The CM who took ₹1 per month had an asset of more than 100 crores as per her election declaration in 2015
Have a look at the details of property -movable as well as immovable- owned by Jayalalithaa
In the month of April 2015, Jayalalithaa had declared the details of her movable and immovable properties worth ₹113.73 crore. Out of this, movable properties are worth ₹41.63 crore, and immovable properties are worth ₹72.09 crore. This declaration was submitted to the election commission while she was contesting the Assembly election from Dr Radhakrishnan Nagar constituency, North Chennai.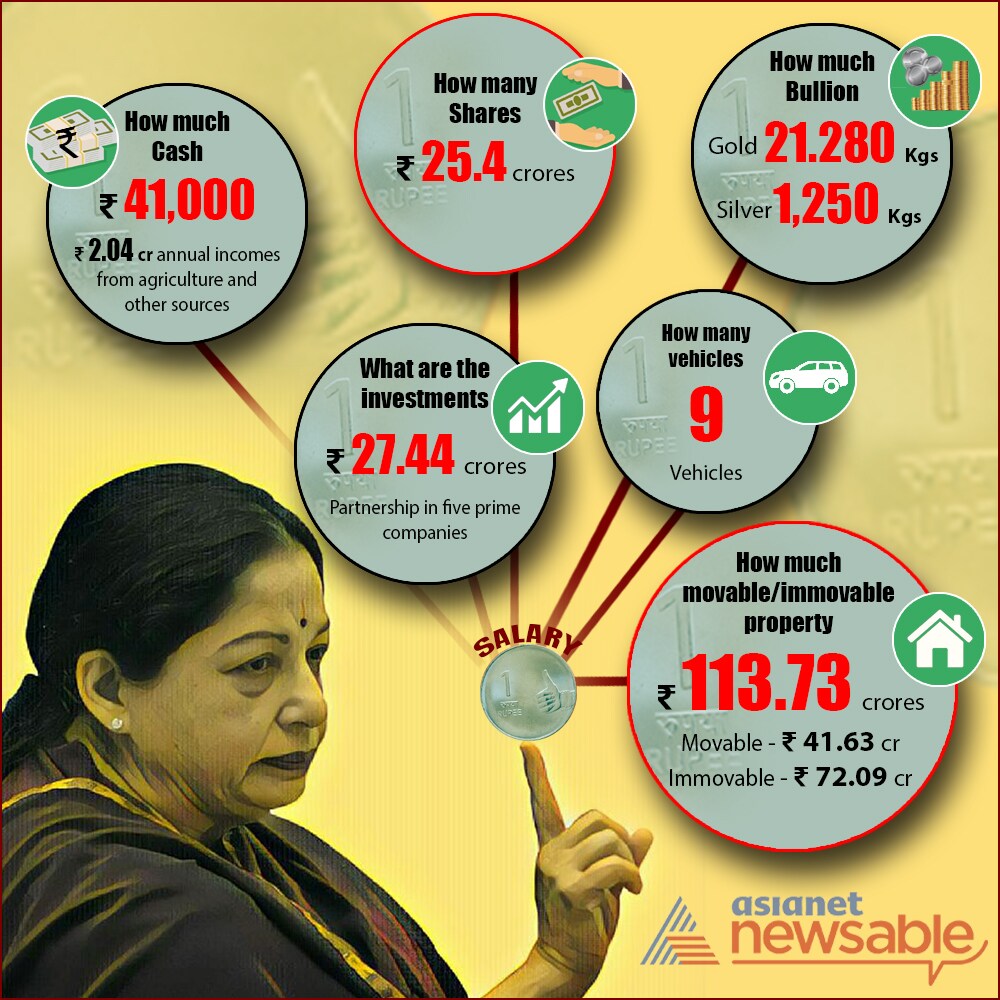 Illustration by: Guruprasath
Cash
As per her declaration she had ₹41,000 cash currency when she declared her property details. Besides she had declared she had ₹2.04 crore annual income from agriculture and other sources.
Shares
Jayalalithaa had share investments to the tune of crores of rupees. But in the declaration, she had not mentioned the amount. A case was filed against her in Bengaluru Special court in 2004 for hoarding illegal property. Referring to this, she has said in the declaration that the Karnataka Police has confiscated all the share certificates, bonds and documents related to her investments.
Also watch: How much is Jaya worth?
Vehicles
Jayalalithaa owned 2 Toyota Prado SUV cars, each cost above ₹40 lakh. She also owned a Tempo Traveller, a Tempo Trax, a Mahindra jeep, an Ambassador car of 1980 model, a Mahindra Bolero, a Swaraj Mazda of 1990 model and a Contessa car.
Also Read: Amma no more: Jayalalithaa's body taken to Rajaji Hall
Gold-silver
Jayalalithaa hoarded 21.280 kg gold jewellery, 1,250 kg silver articles. But all her bullion were confiscated during the trial by Bengaluru Special Court. Currently, her bullion is in the Karnataka Treasury. Her declaration also said that the trial was going on in the Supreme Court.
Immovable property
'Veda Nilayam' is Jayalalithaa's private residence, located at Poes Garden in Chennai. The mansion is built on a plot measuring 24,000 sqft, with a carpet area measuring 21,662 sqft. The value of the house is estimated at ₹43.96 crore. In the affidavit, she has said that the plot was purchased by her mother in 1967 for ₹1.32 lakh. Besides, she owned an agricultural farm land of 14.50 acre in Jedimetla village, Rangareddy District in Telangana state and 3.43 acres of farm land in Cheyyur village of Tamil Nadu. The farmland located in Telangana was purchased in 1968, and Cheyyuru farm land was purchased in 1981. She also owns four commercial complexes in Hyderabad.
Also Watch: Jayalalithaa: An enigma, a life extraordinary
Investments
She had a partnership in five prime companies (Sri Jaya Publications, Shashi Enterprises, Kodanad Estate, Royal Valley Floritech Exports and Green Tea estate) and had invested an amount of ₹27.44 crore. She has also declared that she doesn't have any investments in NSC, post office or life Insurance.
Last Updated Mar 31, 2018, 7:07 PM IST