How can you support jallikattu, SC asks Centre
Your January 2016 notification negates our 2014 judgment banning use of bulls in jallikattu, said SC to the Union govt
The Centre said that now it would be ensured that bulls were neither tortured nor made to take alcohol prior to jallikattu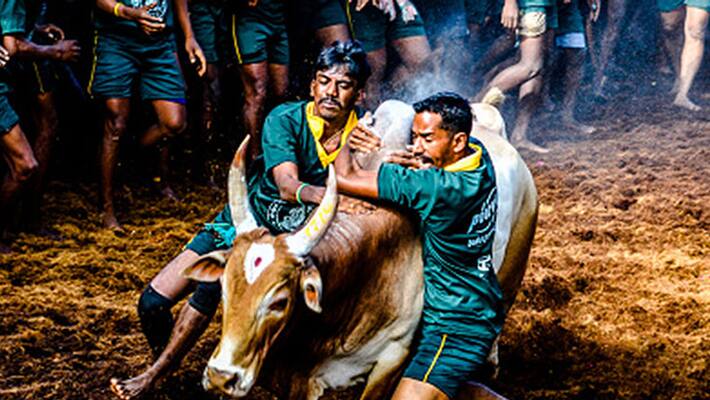 "How can you (the Centre) negate our judgment banning jallikattu by coming up with the January 2016 notification allowing bulls to participate in the sport again," a bench of Justices Dipak Misra and R F Nariman said.
"Your January 2016 notification negates our 2014 judgment banning use of bulls in jallikattu," it said.
Also Read: http://newsable.asianetnews.tv/south/centuries-old-tag-no-justification-sc-on-jallikattu
During the hearing, the counsel for the Centre said that now it would be ensured that bulls were neither tortured nor made to take alcohol prior to jallikattu.
Supporting the historic tradition, the Centre also said that the court should not stop it and moreover, villagers could not be asked to go and see F1 sports.
The bench, meanwhile, refused to hear organisations which have approached it to support the use of bulls in the event and fixed the matter for further hearing on December 7.
Earlier, the apex court had observed that the country cannot "import Roman gladiator-type sport" as it is against the culture of compassion towards the animals.
"We cannot import Roman gladiator-type sport here. One can use computer for indulging in bull fighting. Why tame bulls for it?" the bench had said.
Senior advocate Shekhar Naphade, appearing for Tamil Nadu, had said when humans can run for marathon, why can bulls not be made to do so.
The court in its 2014 judgement had said that bulls could not be used as performing animals, either for jallikattu events or bullock-cart races in the states of Tamil Nadu, Maharashtra or elsewhere in the country, and had banned their use across the country.
The apex court had also earlier declared Tamil Nadu Regulation of Jallikattu Act, 2009 as constitutionally void, being violative or Article 254(1) of the Constitution.
On January 8, the Centre had issued a notification lifting ban on jallikattu in poll-bound Tamil Nadu with certain restrictions, which was challenged in the apex court by Animal Welfare Board of India, People for Ethical Treatment of Animals (PETA) India, a Bangalore-based NGO and others.
Last Updated Mar 31, 2018, 6:50 PM IST