'Honest' Telugu man now Tamil Nadu's kingmaker
Rao is keeping a close watch not just on Apollo updates, but also the governance machinery.
Political players in TN now constantly skedaddle between a triangle of power and authority.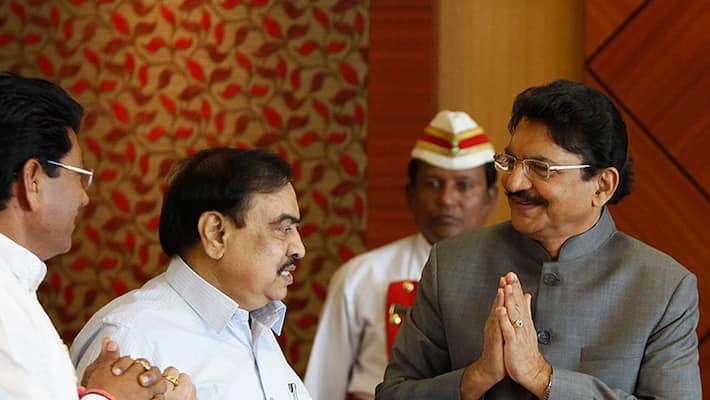 Chennamaneni Vidyasagar Rao, the governor of Maharashtra with the additional charge of Tamil Nadu, is a man in a very unlikely hot seat. With Tamil Nadu seemingly heading closer towards a constitutional crisis every day chief minister Jayalalithaa spends in the hospital, Vidyasagar Rao in his gubernatorial role has become the key player.
Political players and senior officials of the Tamil Nadu government now constantly skedaddle between a triangle of power and authority. The officials operate from the state's secretariat in Fort St George; the political authority now resides fully in the second floor of the Apollo Hospitals six km to the west, and Raj Bhavan, the governor's residence 15kms to the south from the official seat of power.
Vidyasagar Rao is keeping a close watch not just on Apollo updates, but also the governance machinery grinding to a halt in the state and keeping the centre updated on a daily basis. According to reports in the Tamil media, the governor did not take kindly to the idea of bureaucrats signing off on the devolution of key portfolios held by an ailing Jayalalithaa to other members of the cabinet. He reportedly insisted on elected members of the government being accountable for such decisions.   
Not surprisingly, there has been a beeline of state and central politicians outside Raj Bhavan to cajole Vidyasagar Rao to soften his stance and maintain status quo (read remote control of governance by the all-powerful unelected). But so far, Rao seems to have stood his ground.
In his native state of Telangana, Vidyasagar Rao is known as a politician who gives primacy to the substance rather than rhetoric.
 "He is a man of few words, thorough understanding and insightful observations," says Damerla Saibaba, a senior journalist, who watched Rao's political evolution from MLA to minister to Governor.
Though a hardcore BJP leader, Rao has developed a tendency to be accommodative of the ideas that even come from those who are opposed to his ideology.
This trait must have come from his family environment which produced an eminent Nehruvian era economist (Ch Hanumantha Rao) and a doyen of Communist Party India of former Andhra Pradesh, Ch Rajeswar Rao, who, of course, in his late years joined the TDP.
He is remembered for making BJP intellectually sound during his tenure as state Andhra BJP president.
A successful advocate in Karimnagar, Vidyasagar Rao earned respect as an effective legislator in the then Andhra Pradesh assembly.  
 Despite his reputation as a gentlemanly and accessible leader, Rao tasted defeat in his home district Karimnagar in a couple of Lok Sabha elections. 
Many of his colleagues admit that this was due to his inability to manipulate the electoral fortunes with money and muscle power.
Rao rarely ever resorted to cheap politics of the contemporary era, which is said to be responsible for his diminished fortunes during previous NDA regime.
He was appointed a junior minister in LK Advani's Home Ministry and later shifted to commerce, again as a MoS.
 "Confrontation or throwing his weight around is not his nature. His skills of persuasion are amazing. He knows how to get the work done from officials.  His rule-bound attitude never makes you feel uncomfortable," said a civil servant who worked with him in New Delhi.
The leftwing family tradition notwithstanding, Vidyasagar Rao veered towards the Jan Sangh during his adolescence in his hometown of Metpalli.
 He joined Jansangh and went to jail during the Emergency. He entered the then AP Assembly in 1985 and continued till 1998. 
The same year, he contested from Karimnagar  Lok Sabha constituency and won.
He got re-elected in 1999.  He was inducted into union council of the minister during his second parliamentary stint. He subsequently failed to get elected.
Till he was appointed the governor of Maharashtra, Rao remained a committed activist for the rights of Telangana. He used to participate in debates and never missed an opportunity to defend the water rights of Telangana and the statehood of the region.
Rao's ability to listen to different quarters and play with a straight bat will prove to be a big asset in Tamil Nadu which is in the midst of political turmoil.  
Last Updated Mar 31, 2018, 6:59 PM IST