'Hindu girls can also wear burqa'
Karnataka government said that it will protect the rights of the Muslim students to wear burqa.
Those troubling students for wearing burqa will be penalised.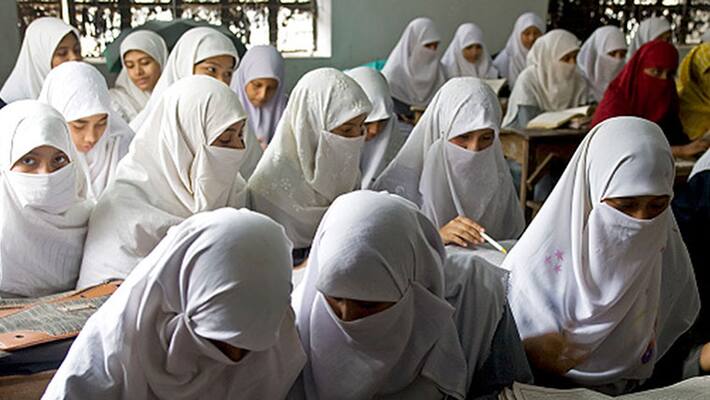 Amid growing cases of opposition to school and college girls wearing the hijab or burqa, the state government has hit back saying "if Hindu girls want, they can also wear burqa."
In what seems to be an attempt to stay apolitical, Higher education minister Basavaraj Rayareddy said the government would not interfere in the personal choices of a student.
 "The students have the personal freedom to wear a hijab, burqa or even a hat or cap if they wish to. After 18, they are adults who can exercise their personal choice. We cannot interfere in such issues," Rayareddy said.
He emphasised that there is no uniform dress code in the higher education system and the government will do everything to protect girls, who are being troubled for wearing burqa.
"I came to know that a few students are troubling Muslim girl students who wear burqa. The government has not set any dress code in collegiate education," he said.
"We will file criminal case against those who force dress code on any student"  he added.
The minister also suggested Hindu and Christian students also to wear burqas if they like. Writer Baraguru Ramachandrappa also opposed the trend of wearing saffron shawls as a mark of protest against burqa. He said that such protests are sheer politics and urged not to bring politics in the matter of culture and dress code.
In recent months, in several degree colleges in Shimoga, Mangaluru, Haveri and other places, there have been instances of protest, wherein the students have confronted girls wearing burqas.
Last Updated Mar 31, 2018, 6:58 PM IST