Hall ticket goof up: KSCPCR summons BEO, school management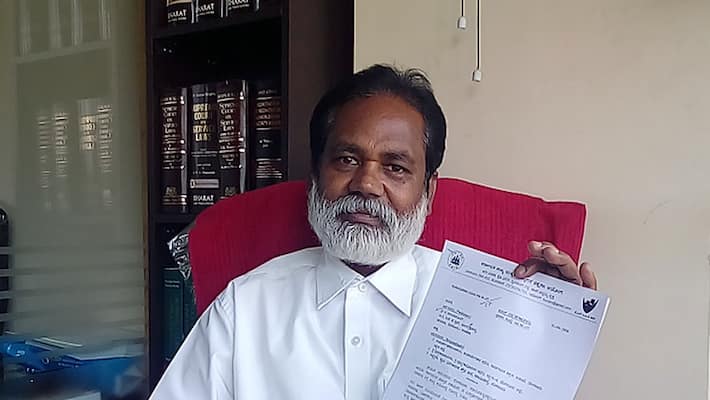 A writ petition filed by an RTI activist has forced the Karnataka State Commission for Protection of Child Rights (KSCPCR) State Child Rights Commission to issue summons to the Block Education Officer and the school's management to appear before them on April 22.
The summons was issued after the Commission heard the petition filed by T Narasimha Murthy, an RTI activist, on April 4, with regards to compensating the 30 SSLC students from Bengaluru's Swami Vivekananda Primary and High School who were denied admission tickets to write their exam.
Murthy filed the petition after he suspected negligence and nexus by the BEO and management in this episode, due to which the career prospects of 30 unsuspecting students have been severely affected.
"There is a nexus between the school management and the BEO officials. The education department is running at the behest of an 'education mafia'. Imagine how these students feel after preparing for their exams for a year and then being denied admission tickets through no fault of theirs. These days children are taking extreme steps; if something like that happens, who will take responsibility?" Murthy quizzed.
"I heard that the school owner, Nagaraj, has been arrested but some action should also be initiated against the Block Education Officer for failing to check the school records," he added.
Ramesh, the Block Education Officer (BEO) for South Zone-4 in his defence claims that the School authority itself was cheated by one Vijay Kumar, an agent who created fake school records. 
The issue had come to the departments' notice only on March 31, the examination day. Examination fees along with necessary documents need to be furnished months in advance but, Ramesh claims, "it did not happen."
"The agent has cheated the school by furnishing fake records claiming it is from the education department, as a result of which there was no issuance of admission tickets by us. If the school management had approached me two days in advance, we could have made some provisions" 
When asked why he was not able to detect the fake records, he stated that the agent managed to create fake records which looked genuine.
With regards to giving compensation and arranging for re-examination for these unfortunate students, he said, the decision rests with the government. "I have prepared a report on how this school got cheated due to which 30 innocent children are most affected. It is now up to the higher authority to take a decision," he said.
Ramesh's claim to ignorance, however, has been dispelled by Umapathi, an Advocate, who pointed out that the process to enroll student takes place nine months in advance when the record of students appearing for SSLC is sent to the department. In the first two rounds, there is a direct correspondence between the school management and education board, and it is only in the third round that the file is routed through the BEO. 
"The BEO cannot escape by giving a lame excuse as his role will also be inquired. Without the knowledge BEO such file movement could not have taken place. Along with re-examination, compensation, an action should be initiated against the official"  Umapathi retorted.
Kripa Alva, the Chairperson of the KSCPCR added: This issue is not limited only to Bengaluru as there is a similar case of 27 students from Koppal in North Karnataka. "We have issued summons to the respective BEO and also school management to appear before us in this regard as it is a case of child rights violation."
Last Updated Mar 31, 2018, 6:49 PM IST