Gunmen missing, realtor shot dead in Bengaluru
Andhra-based realtor Parachuri Surendra had allegedly cheated many in business
No one heard the sound of gun shots due to bursting of fire crackers
His four gunmen were missing when he was shot dead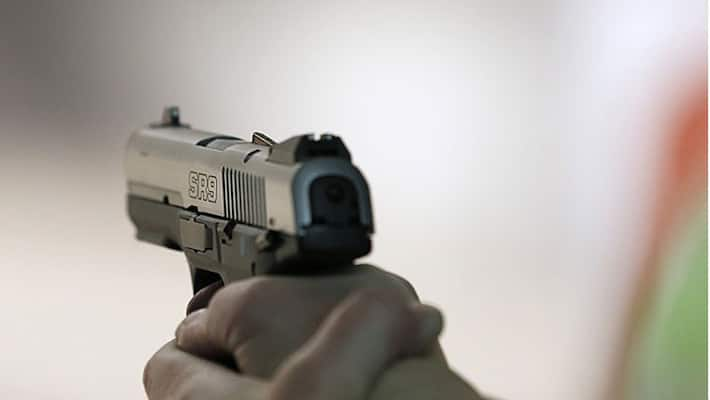 Taking advantage of the Deepavali celebrations and sound of crackers bursting, businessman Parachuri Suremdra was shot dead in Bengaluru at 9.30 pm on Sunday night. Business rivalry is suspected as the reason behind the murder.
The deceased Surendra was running a security agency. He had appointed four gunmen as he was frequently receiving threat calls. These gunmen stayed with him 24 hours and gave him security even when he was at home.
On the fateful Sunday, Surendra returned to his house in Sanjaynagar from his Hebbal office. The killers have followed his car, in a two-wheeler. They shot six rounds of bullet as soon as Surendra got down from his car. Bullets were found in his neck, head and chest.
Apparently no one heard the gunshots due to the noise of people bursting crackers in the surroung houses. Noticing Surendra fall from the car, localites rushed him to the hospital. Where he was declared brought dead.
It is said that the gunmen were not around him when the incident took place. The police is yet to get any clue about the killers no CCTVs are installed in or around the victim's house.
Sources say that Surendra had deceived many businessmen. He had cheated a Kerala-based businessman to the tune of ₹15 lakh. A fraud cases has been filed against him in various police stations in a number of states. Around 14 fraud cases have been filed against him in RT Nagar Police station alone. The body has been sent to MS Ramaiah Hospital for post-mortem. 
The Sanjaynagar Police have filed the case and are investigating.
Last Updated Mar 31, 2018, 7:04 PM IST