Political hues - Green for Jaya, Yellow for Karuna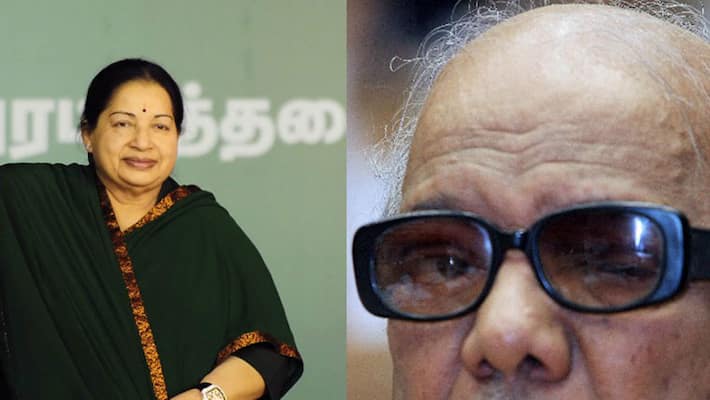 For Chief Minister and AIADMK supremo Jayalalithaa, starting from her saree colour, the backdrop of the stage at party election meetings and the ornamental decorations in the venue, it is the suffusion of green everywhere.
Interestingly, even shawls used by players of traditional music instruments like 'Chendaimelam' in AIADMK election meetings and the colour of sarees of her several supporters are green. Add to this the colour of the pen used by her, the party website's backdrop, important headlines in party Tamil daily Dr Namadhu MGR -- all hued green.
AIADMK's love for green, a senior party functionary says, "springs from the fact that it symbolises prosperity, peace and progress, which is also the party's tagline and the party symbol two-leaves also means the same."
As for as Dravida Munnetra Kazhagam, yellow best beholds the eye of party chief and former chief minister Karunanidhi, who for many years now has been wearing a shawl of the same hue.
The yellow link only begins there and could be seen everywhere else in DMK, especially in the party meetings. Yellow was the colour of the stage's backdrop in Karunanidhi's grand election meetings, be it in Tiruvaur or Cuddalore. Against the bright yellow backdrop, party's red and black --flag colours-- take the rest of importance.
Interestingly, the party's symbol, the 'rising sun', too is invariably in yellow and the colour has often been used for key headings and backdrops in DMK Tamil daily "Murasoli".
On the DMK's yellow link, a party leader, said, "It is strange that media looks into all these things. We are a party of rationalists." However, Karunanidhi's choice of yellow shawl had invited barbs from his political rivals in the past.
Tamil Nadu's Dravidian parties and their leaders have a very long association with shawls stretching to over seven decades. AIADMK founder and former Chief Minister M G Ramachandran too used to wear a short shawl on his shoulder.
The practice of wearing a shawl by Dravidian party leaders began as part of efforts to end inequalities and discrimination as early as in 1940's.            
In those days, when upper caste men claimed exclusive right to wear shawls or 'angavasthiram', reformist leader and ideological fountain of Dravidian parties Thanthai Periyar EVR encouraged all men to wear it.
Last Updated Mar 31, 2018, 6:50 PM IST