Government inaction kills nine rescued camels
Nine camels have died due government inaction.
For the last one year, the activists have been urging the state government to rehabilitate them.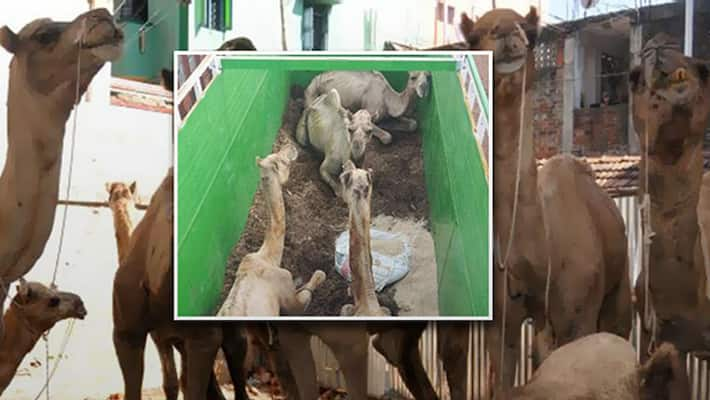 Nine camels rescued by animal activists have died a sad death after they were left tied in congested space at an animal rescue shelter. 
Every year scores of camels are smuggled into Bengaluru only to be slaughtered illegally. The activists, who had rescued nine camels from different parts of the city, have revealed that the animals have all died due to the delay by the state government to send them back into their habitat.
Sunil Duggar, Secretary Akhila Karnataka Prani Daya Sangha told Asianet Newsable that the camels are made to walk all the way from Rajasthan and Gujarat, only to be slaughtered illegally here in Karnataka.
After pressure from animal activists, the state government increased its vigilance at the borders, however, since then the camels are being transported illegally in trucks.
In 2015, the activists rescued nine camels from different parts of the City. As it required the government's permission to transport them back, the activists were forced to keep them at an animal rescue centre. 

"The camels were housed at goshala along with rescued cattles, calf and cows, but these cames cannot survive in this climate. We had written several letters to animal husbandry department, police and Bengaluru city corporation to take action in sending these poor animals back to their respective habitat but they simply delayed it and this delay resulted in death of camels one by one," Duggar said.
Another animal rights activists said that camels and even cattle at rescue centres are "The animals are tied, they cannot move or make even sounds. These issues need to be addressed immediately,"
There was no response from the animal husbandry department. 
Last Updated Mar 31, 2018, 6:38 PM IST