Bengaluru: Fortis docs to pay ₹23.5 lakh for slip-disc surgery death
K Vidya Prasad, 45, Principal of Regency Public School in Vidyaranyapura died on February 11, 2010.
She had undergone a spinal surgery at Fortis hospital.
She died of cardiac arrest.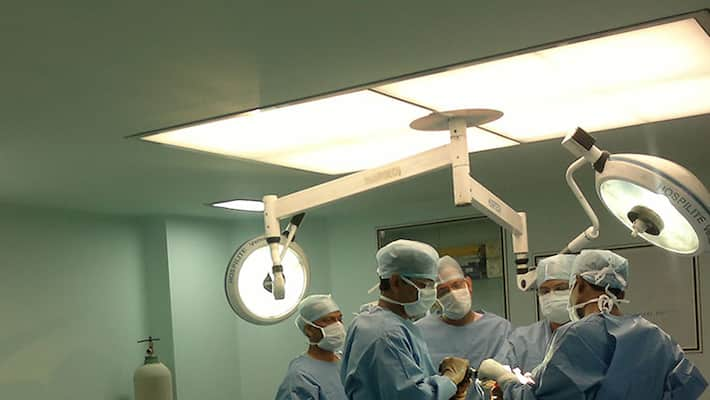 Holding doctors at the Fortis Seshadripuram responsible for the "gross medical negligence" that caused the death of a 45-yr-old lady principal of a school, the Karnataka State Consumer Disputes Redressal Commission has now asked them to cough up ₹23.5 lakh as compensation to the family.
Accusing negligence on the part of the medical staff of the Fortis Hospital that eventually led to his wife's death, the aggrieved husband approached the consumer court. 

The deceased, K Vidya Prasad, aged about 45 years, who was serving as Principal of Regency Public School in Vidyaranyapura, Bengaluru had died on February 11, 2010. 
Her husband, H N Prasad, an advocate in Karnataka High Court, had accused Fortis Hospital of "gross negligence" that caused his wife's death. 

During the hearing the Tribunal observed that "Doctors had prior knowledge about the cardiac problem of the said patient who got admitted for getting treated for her Spinal problem. In spite of that, spinal treatment was carried out without adequate measure to attend to her cardiac-related disorder during the operation process."     

Case history
The deceased was suffering from spinal (back-bone) problem since several years. Doctors first diagnosed this as 'Intra Variable Disc Prolapse' condition.  Before this, Vidya got surgically treated at Columbia Asia Peripheral Hospital in October 2009. But with recurrence of the problem in the year 2009, she consulted Dr P K Raju of Fortis Hospital.

Dr Raju opined that subsequent surgery was needed as the first surgery had failed to resolve the problem. Based on his suggestion, she got admitted to Fortis Hospital and underwent surgery on February 10, 2010. The doctors, however, after the spinal operation told the family that the operation was a success and that she would be shifted out soon.
However, at around 12.45 pm, the doctor said that "Patient is not responding to treatment and only God can save her. Above all, there is no Pace-maker facility in the hospital," Vidya's husband had told the commission.

"The untimely death of Vidya had caused irreparable loss to her husband and children. As such, the hospital and doctors should compensate for the loss" the commission ruled. The court had decided the quantum of compensation, based on cases related to accidents deaths, under the Motor Vehicle Act.
Last Updated Mar 31, 2018, 6:44 PM IST