Former PM Deve Gowda challenges Modi to action on BSY
Asks to take action against black money hoarders.
Names BS Yeddyurappa as one on the list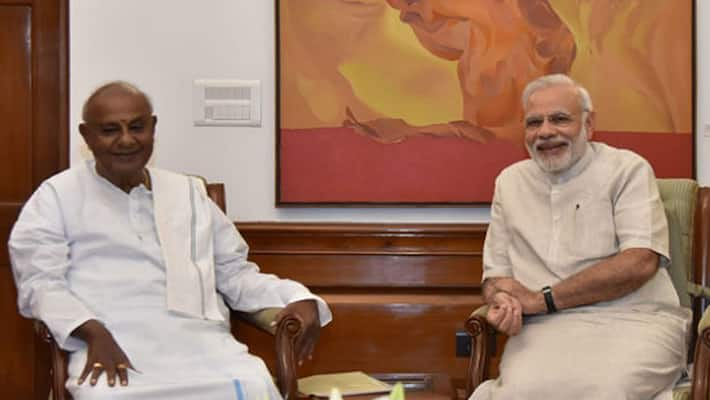 ​Former Prime Minister HD Deve Gowda has challenged PM Narendra Modi to take action against actual black money hoarders, including former Karnataka CM and BJP leader BS Yeddyurappa.
HD Deve Gowda told Modi to take action against land encroachers and real estate mafia - if he is really dedicated to his mission. He also told that he's ready to give the list of such encroachers to him.
Majority of black money hoarders are the land encroachers and they are all in real estate business. Deve Gowda told that he'll support Modi in every way if he takes action against them.
Indirectly referring to BS Yeddyurappa,  Gowda said Karnataka has witnessed Chief Ministers who have taken money illegally through cheques. But cases against such powerful people are getting closed one by one.  
Gowda also expressed his dissatisfaction about Modi's stand and inattention to Cauvery dispute.
"I staged hunger strike when Supreme Court was giving unfavourable verdict to the state in Cauvery issue. At that time I went to PM's office and told them that PM may come to my place to garland my dead body. Only after this incident the centre decided to submit an affidavit to the SC. Regional parties are necessary for the welfare of the state" HD Deve Gowda said.
Last Updated Mar 31, 2018, 6:50 PM IST