Forget steel flyover, this road widening will cost Bengaluru 2000 trees
BBMP now plans to cut down 2000 plus trees in Bengaluru.
City had earlier witnessed a mass public protest over BDA's proposed steel flyover project.
Over 800 trees were to be cut for the steel flyover project.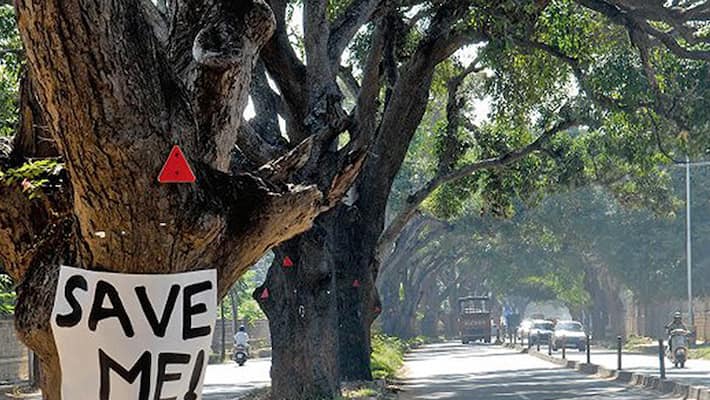 Even as Bengaluru witnessed a large-scale public protest over its plans to uproot dozens of trees for the steel flyover project, the Bruhat Bengaluru Mahanagara Palike (BBMP) has now set its eyes on cutting down over 2000 trees for road widening project on the same stretch.
BBMP was earlier was forced to shelve its plan for building a steel flyover after city residents protested over its plan to cut down some 800 trees.  However, undeterred by the public uprising, BBMP now claims that for the road widening project from Basaveshwara Circle and Jayamahal to Hebbal, it will have to cut down some 2000 trees.

According to political experts, the Congress government in the state is in a hurry to take up the project, as it the roads will ease the traffic movement between Yelahanka and Dasarahalli. 
Also Read: BBMP to cut 112 trees to expand road near Mekhri Circle
These two constituencies are currently under BJP, and the current government expects to win some brownie points.

Vinay Srinivasa, an activist from Bengaluru, says, the government has shown its arrogance yet again. The government thinks that, only through destruction, the development is possible.

"If they think these act of their to cut trees for one or other reason will fetch them votes, they are wrong," Srinivasa said.

According to Tree preservation act, the BBMP should hold a public consultation and place the matter before tree committee if 50 or more trees are identified to cut. 
Also Read: Bengaluru citizens tear apart BDA's grand master plan 2031

Asianet Newsable has now learned that BBMP has already started off its plans to cut down some 112 trees on Jayamahal Road stretch under it recent road widening project. 

BBMP but has said that they put up the project under the High Court direction. However, the fact remains no environmental assessment was done before taking up the project.
A detailed study was done on existing trees on these stretch in association with Azim Premji University.  The study found that BBMP will be required to cut down 2000 plus trees on the stretch from Basaveshwara Cricle to Hebbal for the road widening,  Vijay Nishanth, member tree committee  told Asianet Newsable.
The same study had earlier found that 812 trees have to be cut down for the steel bridge project.
"I have my doubt as further to Jayamahal the road connects to Mekri Circle and government has planned to put a steel bridge here. Now they say they want to do road widening. We have demanded the BBMP engineer to share the tree details and map and also to place the matter before tree committee," he said.

With BBMP issuing a notification for objections,200 persons have already asked the tree committee members to stop the tree cutting on these stretch.
"I have received about 200 objections, and in by February 17, the last day for objection, much more are expected to raise objections to cut trees.Based on this objection, the BBMP will be asked to think about the alternative for Jayamahal road widening project," added Vijay. 

Another activist said, the government is hell-bent on cutting trees to make so that it can boast of its achievements during elections.

"The project will be used in the manifesto to appeal voters from Yelahanka, Dasarahalli, Sanjaynagar, Hebbal segment. These areas are now ruled by BJP leaders and Congress want to woo the voters by such unmindful projects," said an activist.

Chief Engineer for Major Roads, Prahalad who is in charge for the project here says, the BBMP has only identified about 112 trees and these many of these trees are old and can uproot anytime. 

The idea of road widening was taken up as the carrying capacity of traffic has become less. "If these from Cantonment to Jayamahl is widened, the motorists can opt this route to reach Airport via Mekri circle, instead of on depending on Sankey Road from Basaveshwara circle," he said.

He said, BBMP has called for objection from the public in this regard, and further steps will be taken based on the objections and public consultation.

Byrathi Suresh, MLC who is preparing for election to contest from Hebbal on Congress ticket, lashed at the activists by saying, these activists do not understand the pain of North Bengaluru residents. 
"Many parents go through hardship to drop and pick children, office-goers from this region curse the traffic. They would welcome if such projects are taken up. The steel bridge and also road widening is a necessity here," he said.
The development project is taken up by the government is not to please voters but to knock off the inconvenience of motorists and residents from Yelahanka, Hebbal and Dasarahalli, he added.
Last Updated Mar 31, 2018, 6:39 PM IST