Fish curry laced with poison
The fish is preserved with ice, made of water mixed with formalin and ammonia
Sodium benzoate when mixed with Vitamin C or E releases benzene
Benzene causes harmful effects on bone marrow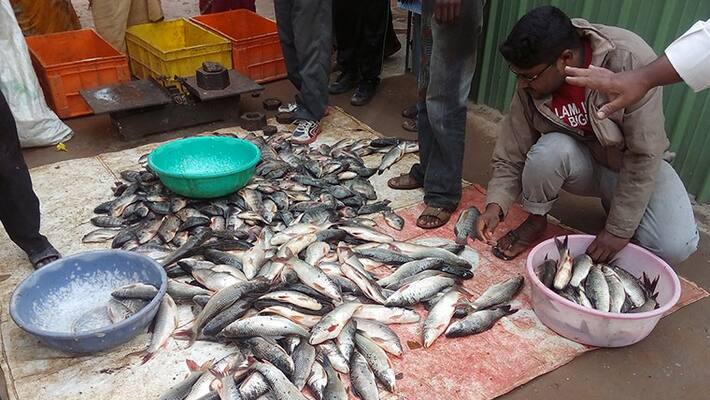 It was only recently that reports of fish curry fuming on its own for days, leaving families perplexed in Kozhikode and Muvattupuzha, had raised questions about methods used to preserve perishable items like fish. On examination, it was found the fish was preserved with chemicals like formalin, ammonia and hydrogen peroxide, which overreacted with some of the ingredients used for preparing curry. 
 
Latest in the list is 'sodium benzoate' or 'E211', the chemical that kills healthy cells and promotes cancer. An Asianet News investigation proved that vendors are using sodium benzoate to prevent molding of fish. 
 
The team visited Chambakkara fish market in Kochi, the leading wholesale fish market in central Kerala. Along with ice chunks vendors were scattering a white powder on the fish. When asked, they told reporters that it was powdered salt. 
 
Asianet News team approached Central Institute of Fisheries Technology (CIFT), an autonomous organisation engaged in research related to fishing and fish processing in India. On examination, it was found that the powder used by fish vendors is 'sodium benzoate, a preservative most widely used in acidic foods like carbonated drinks, fruit juices, jams, pickles and condiments. 
 
It is a known carcinogen, a substance which causes cancer. Though sodium salt can be used in a very low amount to preserve food, it should not be ever mixed with vitamin C or E as the combination releases benzene, which causes harmful effects on the bone marrow.

However, it is the cheapest mold inhibitor available in the market, and this tends vendors to use the chemical to preserve fish, which reaches consumer months or at least weeks after it was caught. 
 
The sodium salt can extend the shelf life of the food but shortens human life. 
Last Updated Mar 31, 2018, 6:55 PM IST