Will focus on roads, revenue generation: Bengaluru's new Mayor
Congress' G Padmavathi, a four-time Corporator , finally donned the prestigious Mayor's red gown
Speaking to Asianet Newsable, she said she would continue all developmental works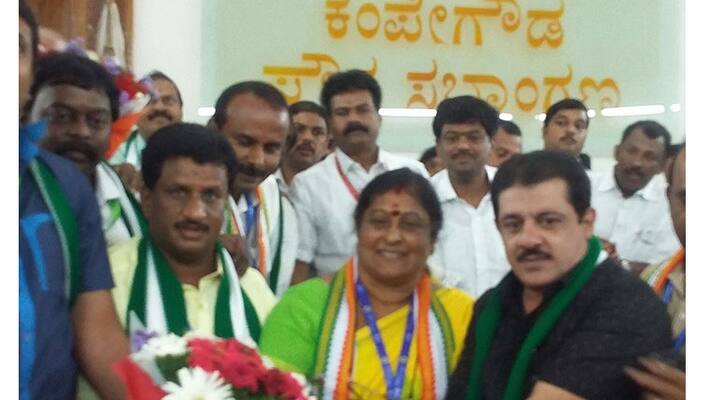 Amidst all the lobbying and objections, Congress' G Padmavathi, a four-time Corporator, finally donned the prestigious Mayor's red gown, becoming the 50th Mayor of the Bruhat Bengaluru Mahanagara Palike (BBMP). 
Interestingly, as she walked down to the conference hall for her first interview as a Mayor, she took her coalition partner and Deputy Mayor S Anand of the JD(S). This gesture seemed to be aimed at her political opponents in the BJP, signalling that she was ready to take on her opponents head on.  
Speaking to Asianet Newsable, she shared her thoughts about the city and her future plans:
Asianet Newsable: What will be your plan of action for your tenure?                                           
Mayor: A major area of my focus will be on revenue generation and road development. The government has agreed to fund about ₹7000 crore for the BBMP. We have already taken on several road work projects. ₹2000 crore will be spent on that, which will develop all the major roads in the city. However, we will not depend only on government funds. The BBMP will bring revenue through its tax collections. For the current financial year, the BBMP collected ₹ 1850 crore from a set target of ₹3100 crore.                                        
AN: There have been allegations that non-Congress corporation wards are being neglected?                     
M: Such reports are false. I am the Mayor of the whole city, and every ward is my ward. There is no stepmotherly treatment to non-Congress wards.                            
AN: You stated that revenue generation was your priority. But as per the records, only some 45000 property traders are paying taxes. The electricity agency, BESCOM, says it has 4.5 lakh consumers listed as commercial properties and traders?                                        

M: I will get the reports and issue standing instructions to the revenue department in the BBMP to issue notices to defaulters.                                               
AN: The previous Mayor had taken a tough stand on encroachers and demolished homes on stormwater drains. But later the demolitions were stopped. This led to accusations that the BBMP has yielded to pressure from the real estate market. How will you handle this situation?
                                               
M: All the development works taken up by the former Mayor will be continued. With regards to the demolition drive, the palike will go by the orders of the Deputy Commissioner and the courts. We will reclaim government land as well. There is no pressure from any party. But several places required a re-survey.                                       
AN: Bengaluru has chronic issues with footpaths and roads. When will Bengalureans get good roads?
M: We (the Congress) will be focusing on the issue in the upcoming elections in 2018. Bengaluru is our top priority. Hence these problems will be addressed.                                         
AN: Who do you think helped you to achieve this victory?.                                          
M: My patron, DK Shivakumar (Congress leader and state Minister for Energy), has fought among party colleagues and earned me a place. But I should also thank JD(S) supremo HD Deve Gowda for clearing my name and Chief Minister Siddaramaiah for choosing me as the candidate. Dinesh Gundy Rao,  Ramalinga Reddy and Manjunath Reddy also pitched in with their support.          
Last Updated Mar 31, 2018, 7:06 PM IST