Fasal murder: Police officers get life threat over social media
CBI is investigating Fasal murder
CPM leaders Karayi Rajan and Karayi Chandrasekharan were accused in the case
BJP alleges police forced Subeesh to confess against RSS workers
Kerala police filed a case against 20 persons, including Kannur district secretary Lasitha Palakkal, for allegedly threatening police officers who questioned BJP worker Embrantavida Subeesh in the sensational Fasal murder on October 22, 2006. Subeesh had confessed that it was RSS workers who committed the murder of Fasal and another CPM leader Pavithran. 
BJP alleges that the police forced Subeesh to confess that the murders were committed by RSS workers and not CPM. The party also registered a complaint with the CBI and National Human Rights Commission. 
 
Police claim that Fasal made the confession during interrogation in connection with the murder of CPM leader K Mohanan. 
 
Soon after this, life threat against DySP Sadanandan and Prince Abraham emerged on social media along with a video of Subeesh coming out of court, all tired. Police took case after going through social media messages.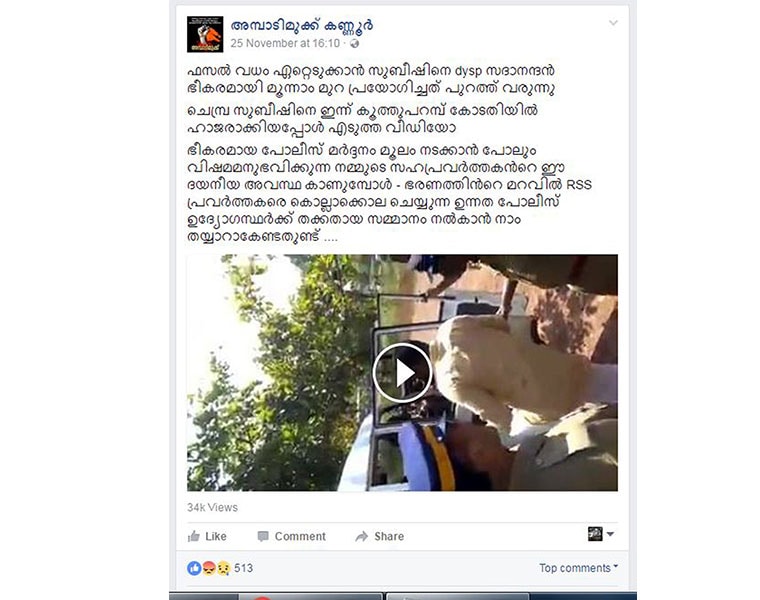 Meanwhile, political moves among CMP, BJP and Popular Front have gained strength following confession reports. CPM alleges that Popular Front leaders visited Subeesh at jail and forced him to say that the murder was committed owing to pressure from CPM Kannur district secretary P Jayarajan. Police also confirmed that Popular Front leaders visited Subeesh. 
 
CPM is trying to save their leaders Karayi Rajan and Karayi Chandrasekharan, both accused in Fasal murder while RSS is trying to save their face and to make sure that the case won't turn against them. Popular Front wants to establish the role of CPM in the murder which is being investigated by CBI. 
Last Updated Mar 31, 2018, 7:01 PM IST