Exclusive interview: Bengaluru's new police commissioner up in arms against city traffic
Police will continue with the element of surprise to crack a whip of traffic offenders.
The police department will leverage on social media to communicate with public and take suggestions.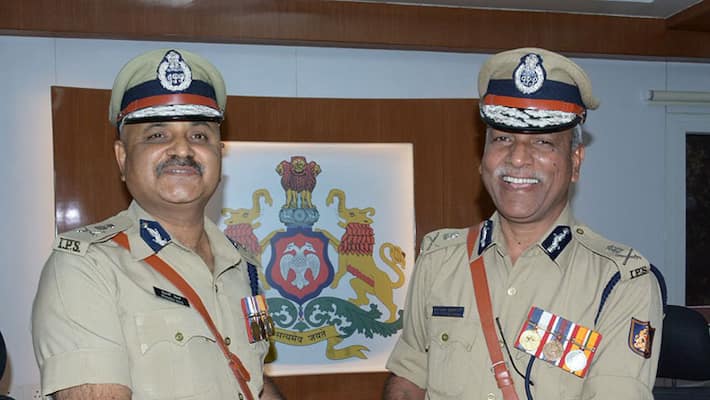 At a time when everyone is talking about the law and order in metro cities, newly appointed City Police Commissioner, Praveen Sood, who just took over from his predecessor NS Megharik says, more than anything, city's traffic is the biggest problem in Bengaluru.
What is your first priority in Bengaluru?
Traffic is the bigger problem than law and order in the city. There is confusion as nearly 13 other agencies like BBMP, BWSSB, BDA, BESCOM and others are also involved directly or indirectly in managing traffic. The traffic department is tasked only to manage traffic and it cannot go beyond that. We are taking the help of technology to manage the traffic and we are leveraging on that front.
Tell us something about your first official meeting after taking charge?
In the first meeting, we discussed traffic! I have given clear instructions to my officers to tell their juniors on the field not to stop a vehicle just to check documents as this process will add to traffic congestion. However, police will continue with the element of surprise to crack a whip on traffic offenders.
Nowadays there is increase in complaints of the people in residential areas about loud music and parking issues? 
This is not police's fault as we are not the license issuing agency. It is simply not possible to distinguish between residential and commercial areas. This is the reflection of poor urban planning and its collapse. These issues will be raised with other stake holders like BBMP, BWSSB, BDA to ensure better infrastructure so that the police is able to carry out its duties without confusion.
How will you address the cyber-crime which is on the rise? 
The cyber crime victims and the accused can be found everywhere. A person sitting in Africa can cheat a person in Bengaluru. The police will definitely register a case but the cost of detecting is more than the lost the items or money lost by the victims. The focus in cyber crime will be by and large of prevention and sensitising people.
Are your people trained in handling crimes involving technology?
The local station is not equipped to handle cyber crime cases and hence the cases are transferred to the CID. The police department will leverage on social media to communicate with public and take suggestions and implement the suitable ones to control law and order and traffic problem in the city.
What is your take on handling crime-related issued involving foreign nationals?
The police do not have an exact statistics of the foreign nationals involved in crimes in the city. However, an instruction has been issued across all the stations and to the City Crime Branch police to crack a whip on those whose visa has expired. These people will be deported without any delay and the embassy concerned will be kept in the loop.
What action will be taken against the black sheeps in the department?
The department is very strict; Action will be taken against people involved in any criminal or corruption cases. 
The Bengluru police could not control the mob during Cauvery agitation. How will you deal with similar problems?
We have activated our information network and no one will be spared. With regard to riots, arrests were made. We are regularly tracking movement of such people who are trouble makers.
How will you address the cases of murders, robbery and chain snatching which sent shivers down the spine of Bengalureans?
We are in touch with local residents. Currently, there are about 13 active civic battalions, who are associated with police. We will take their help in identifying the trouble makers and take necessary action to control such situations.
The case of a bank employee being attacked inside an ATM is yet to be solved. How are you planning to deal with this?
We had taken measures then and now again I will hold a meeting with my officers. The investigation officer at that time will be summoned for re-examining and a decision will be taken thereafter.
Last Updated Mar 31, 2018, 7:02 PM IST