Who instigated the factory workers' agitation in Bengaluru?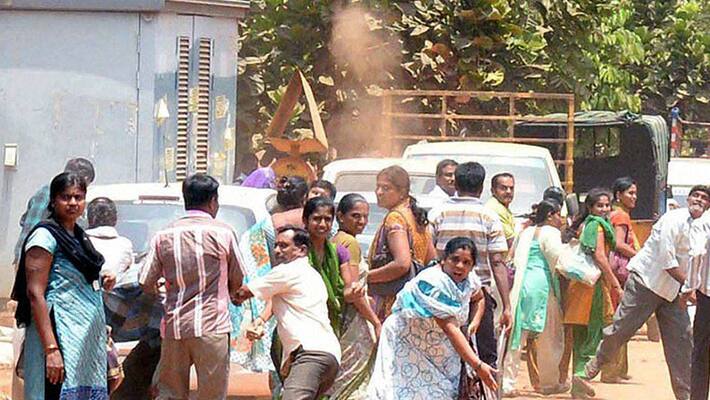 The factory workers' agitation across Bengaluru was so massive on Tuesday that even the police were unable to control the situation.

 
In a day of violence, some 65 policemen, including 15 home guards and over 45 members of the public were injured on Tuesday. The city police arrested 116 people, including three women. The factory workers were protesting against the withdrawal of employer's contribution from the Provident Fund (EPF), a decision that the government has decided to roll back now.
 This abrupt and unpredicted protest brings forth some questions. How was it possible for the factory workers to unite in such huge numbers and raise their voices against the government's rules in such a systematic way?

 
Some reports say that many of these labourers were instigated by their own factory owners. There are around 1500 garment factories across Karnataka and more than 5 lakh labourers work in those factories.
It has come to light that many of the factories have not paid their part of provident fund to the EPF department for many years. Some EPF personnel say that in spite of repeated warnings, the factory owners have not bothered to pay the arrears of provident fund, which amount to crores of rupees.

 
Besides, many factory owners have not adhered to PF regulations and labour laws. Hence, many opine that this whole worker's agitation is a conspiracy of factory owners to save their interests.
In a press conference on Tuesday, the Bangalore Commissioner NS Megharikh denied any failure of intelligence. He blamed the violence on 'out-of-station anti-social elements' provoking the protesting garment factory workers.
Protesters torched buses in Jalahalli while stone pelting was reported at Gorguntepalya. In the violent protests in Tumkuru, at least five women were injured.

 
Incidents of stone-pelting on buses and other vehicles were reported also from Bannerghatta and Jalahalli cross, as well as near Electronics City - the hub of IT firms.
State DGP Om Prakash said the situation went out of control at Hebbagodi and Jalahalli, where reinforcements had to be deployed.
According to State Transport Department, 50 buses belonging to Karnataka State Road Transport Corporation (KSRTC) were damaged and seven were burnt, and three buses belonging to Bangalore Metropolitan Transport Corporation (BMTC) were burnt and 36 were damaged.
Last Updated Mar 31, 2018, 6:33 PM IST