Drunk Bengaluru: Over 18,000 driving licences cancelled in 2016
From April 2015 to November 2016 the city transport department received close to 36,530 cases of drunken driving
The Indian Motor Vehicle Act, Rule 185, states that a person caught for drunken driving will have to pay ₹2,000 penalty besides surrendering his driver's licence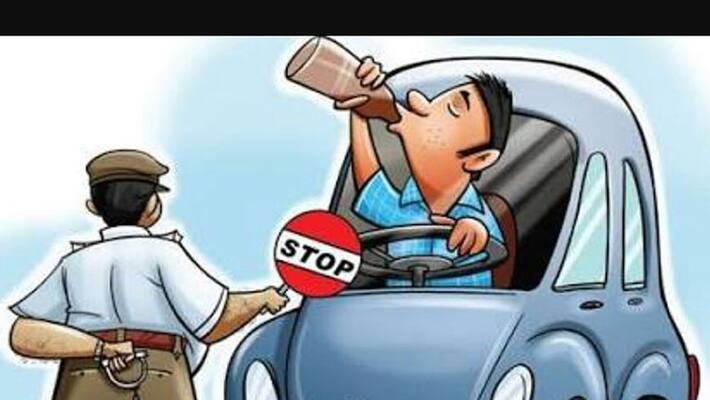 Over 1 lakh drunken driving cases were reported in the past two years in Bengaluru. The number is alarmingly big and the police has sent a strong message to such offenders by ordering the suspension of 18,000 driving licences for repeat of offence.
Narayanswamy, Additional Commissioner of Transport pointed out that the transport department had received 36,530 cases for suspension of driver's licence from the traffic department. All these cases were from April 2015 to November 2016 alone. After repeated notices and hearing of these cases, the transport department issued a direction to the regional transport department calling for the immediate suspension of such licences from the last few months and as a result has suspended 31,209 of them.
"The department was shocked to notice that out of these many instances referred by the traffic department, 18,401 cases were of drunken driving alone. The rest of the 12,808 cases were for other repeat offences. The transport department even gave 15 days advance notice in order to hear the licence holders' version. We were convinced that these offenders were creating nuisance and so for four to six months time they will not be allowed to drive or ride vehicles," said Narayanswamy.
These are the number of cases just booked by the Bangalore Traffic Police in the past three years. Action regarding these cases (2016) is in the process: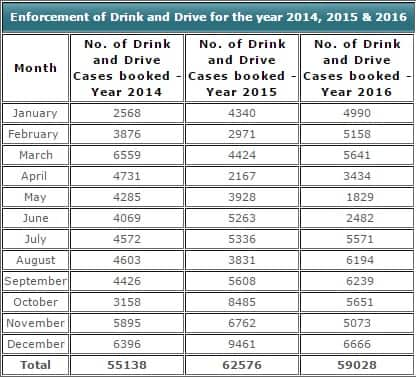 The Additional Commissioner of Bengaluru Traffic Department, R Hitendra warned negligent motorists of similar action and said, "It is because of such offences, lives are lost, hence impounding the Driver's Licence is only the option," said Hitendra.
According to the Indian Motor Vehicle Act, Rule 185, a person caught for drunken driving will be imposed with a ₹2,000 penalty besides the licence being impounded.  And for dangerous and negligent driving ₹1000 is penalty. 
A senior official from the transport department said 5,321 cases that were referred for suspension by the department will also be suspended soon as the department has already sent the notices for hearing. The official too felt the same as his senior.  "Only solution for this negligent and drunken driving is suspending the licence after they are caught. Not giving them any lenience as first-time offenders will tighten their screws," he added. 
Reports say that Bengaluru's has the largest number of cases with regards to drunken driving across the metros. If things continue in this manner, the city will have to bear this tag. Needless to say, the casualties as a result of wilful negligence on the part of few motorists is to blame for such incidents. 
Last Updated Mar 31, 2018, 6:48 PM IST